Chicken and Vegetable Tortellini Dijon
by
Easy and elegant are two words that sum up this recipe for Chicken and Vegetable Tortellini Dijon. The Dijon mustard gives this dish an extra special flavor. The end result doesn't taste mustardy at all, however, so don't avoid this recipe if you're not a mustard fan.

This is a healthy one-dish meal, as it's full of vegetables. I decrease the fat in the recipe when I serve it by replacing the cup of cream with a cup of evaporated skim milk combined with two teaspoons of flour. This change really doesn't affect the overall dish, but when I serve this to company, I opt for the cream just to make it richer.

To make this recipe in a hurry, use a pound of stir-fry ready chicken breast and a one-pound bag of fresh pre-cut broccoli, cauliflower and carrots. Then, you'll only need to slice the green onions, zucchini and yellow squash.

Serve the pasta with garlic rolls and a green salad topped with poppy seed, mandarin oranges and pineapple chunks. Something chocolate for dessert would be nice. Consider chocolate mousse, ice cream or sorbet.

1 pound sliced chicken breasts, or 3 half-breasts, sliced
Salt and pepper to taste
4 teaspoons Dijon mustard
1 tablespoon butter or margarine
1/2 cup sliced green onion
1/2 teaspoon minced garlic
1 small zucchini, washed and sliced
1 small yellow squash, washed and sliced
16 ounces fresh pre-cut vegetable medley (broccoli, cauliflower and carrots)
14 ounces fresh or frozen tortellini
1 cup chicken broth
1 cup heavy cream (or 1 cup evaporated skim milk combined with 2 teaspoons flour)
Salt and pepper to taste
Freshly grated Parmesan or Romano cheese

Place a large pot of water over high heat and bring to a boil. Place chicken pieces in a medium bowl, season with salt and pepper, and coat with Dijon mustard. Saute chicken in butter or margarine in a large skillet over medium-high heat, until chicken is no longer pink. Lower heat and stir in green onions and garlic, sauteing about 2 minutes.
Meanwhile, add vegetables to the boiling water and cook for 3 minutes. Add tortellini and cook for a few more minutes, until tortellini are done. Add broth and cream to the chicken mixture and heat thoroughly.

Drain pasta and vegetables and return them to the large pot. Pour in chicken and sauce, tossing to coat. Season to taste with salt, pepper and Parmesan or Romano cheese.

Makes 6 servings.

Print This Page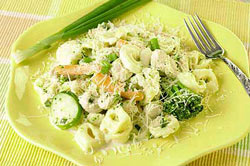 Related Recipe Categories
Main Dishes

| | |
| --- | --- |
| | Karin Calloway is a working mom living in Augusta, Ga., with multiple freelance jobs and a ton of dirty dishes. |