Chicken Normandy
by
Apples are abundant year round but are at their peak in the autumn. Instead of baking them up into a pie for my Autumn Orchard Supper menu, I'm using them in a delicious entrée – Chicken Normandy. Normandy, France is known for its apples, so this traditional French dish bears the name of the town.

The dish is usually prepared with thin veal cutlets, which can be expensive and hard to find in many supermarkets. I've replaced the veal with chicken, and the resulting dish is just as sublime. Cutting thick chicken breast halves horizontally into two pieces eliminates the step of pounding the chicken into thin cutlets. And with today's extra-large chicken breasts, you end up with a healthier serving size.
The sauté can be prepared just before serving or can be made earlier in the day. When preparing the dish ahead, just brown the chicken cutlets on both sides and place them in a baking dish. Complete the sauce and pour it over the chicken. Cover and refrigerate until 30 minutes before dinner. Let the dish sit at room temperature for 20 minutes, then bake the chicken, covered, at 350 degrees for 10 minutes, until the chicken is cooked through and the sauce is bubbly.

3 boneless, skinless chicken breast halves, sliced in half horizontally into cutlets
1/2 cup all-purpose flour
1/2 teaspoon salt
Freshly ground black pepper, to taste
1/2 cup sliced onion
1 Granny Smith apple, peeled, cored and thinly sliced
1 cup apple cider
1/2 cup whipping cream
Salt and freshly ground pepper to taste
Place flour, 1/2 teaspoon salt and pepper to taste on a dinner plate and stir to combine. Dredge both sides of each chicken cutlet in the seasoned flour.
Spray a large nonstick skillet with cooking spray and set aside. Heat skillet at medium-high and add 3 chicken cutlets. Brown 2 to 3 minutes, then turn to brown on other side. Remove to a plate and set aside. Continue until all chicken cutlets are browned.
Add onions to skillet and sauté until wilted and translucent, about 3 minutes. Add apple slices and sauté 2 to 3 minutes more, until they begin to soften. Pour in the apple cider and whipping cream and bring to a boil. Return the chicken cutlets to the skillet, reduce heat and simmer until sauce is reduced slightly and chicken is done, about 5 minutes more. Taste the sauce for seasonings, and add salt and pepper, if needed, to taste.
Makes 6 servings.


Print This Page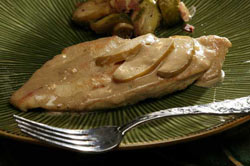 Related Menus
Autumn Orchard Supper
Related Recipe Categories
Main Dishes

| | |
| --- | --- |
| | Karin Calloway is a working mom living in Augusta, Ga., with multiple freelance jobs and a ton of dirty dishes. |