Crab Burgers with Sherry Mayonnaise
Summer is almost here, and although my family's annual week at the beach isn't scheduled until July, my taste buds are ready for seaside fare.
Covering the kitchen table with brown paper and steamed crabs is fun, but I'm opting to save the crab picking for our trek to the ocean. Instead, I'm sharing another beach treat, Crab Burgers.

Crab Burgers at our favorite summer spot are simply crab cakes served on a bun with lettuce and tomato. My version contains lots of crab with a little binding of egg, mayonnaise, breadcrumbs, and seasonings. The Crab Burgers are coated in finely crushed potato chips, which gives them just the right crunch on the outside.

Ask your seafood purveyor to supply you with jumbo lump crabmeat for the best Crab Burgers. Or, find an on-line source for real Maryland crab.
Serve this tasty treat on good quality hamburger buns with lettuce and tomato. I've included a recipe for a simple Sherry Mayonnaise that is a wonderful compliment to these special burgers. Coleslaw, either purchased or homemade, is the perfect side dish. Mini Crab Burgers make a wonderful pick-up hors d'oeuvre.


8 ounces jumbo lump crabmeat, picked over to remove shells and cartilage
1/4 cup bread crumbs
1 egg, beaten
3 tablespoons mayonnaise
1 tablespoon chopped fresh parsley
1 teaspoon Worcestershire sauce
1 teaspoon Dijon mustard
1/2 teaspoon salt
1/4 teaspoon ground black pepper
1 cup potato chips, finely crushed
1 tablespoon vegetable oil
2 good quality hamburger buns
Lettuce leaves
Sliced tomato
Sherry Mayonnaise

Combine breadcrumbs, egg, mayonnaise, parsley, Worcestershire, mustard, salt and pepper in a medium bowl. Gently fold in crabmeat, coating well with the other ingredients but not breaking up the lumps. Pat into 2 burgers.
Place potato chips in a shallow bowl and dip each crab burger in the chips to coat well. Preheat griddle or skillet to medium high heat. Add oil and fry the crab burgers for 3 to 5 minutes per side. Place burgers on the buns along with the lettuce, tomato and Sherry Mayonnaise.

Makes 2 servings.

Sherry Mayonnaise


1/2 cup mayonnaise
2 tablespoons ketchup
2 green onions, finely chopped
2 tablespoons dry sherry
1 teaspoon Dijon mustard
Salt, pepper and Tabasco sauce, to taste
Combine all ingredients in a small bowl. Cover and refrigerate until ready to use.
Makes 3/4 cups.


Print This Page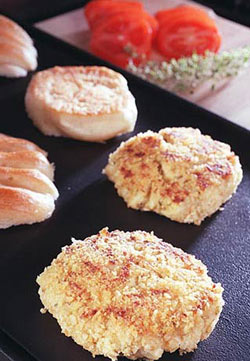 Related Recipe Categories
Main Dishes