Seafood Cannelloni with Tomato Coulis and Besciamella
by
If you're looking for a supper club show stopper, you've found it here. A rich, delicious Seafood Cannelloni with two luscious sauces. The long list of ingredients and different preparations involved may be off-putting, but each component can be made ahead and several kitchen shortcuts are taken to decrease preparation time.
Crepe-like pasta sheets are the base for the cannelloni, and they can be prepared ahead and refrigerated or frozen. If you wish to eliminate the homemade crepes, you can layer the ingredients with cooked lasagna noodles to create a rich seafood lasagna. Alternately, you can roll the filling in purchased egg roll wrappers or fresh pasta sheets and proceed with the recipe as it is written.
The crepes are filled with a creamy seafood filling that can be prepared a day in advance.
The Tomato Coulis is a short-cut version that uses canned seasoned diced tomatoes in place of fresh. A whirl in the food processor or blender, and a quick simmer on the stove is all that's required. The coulis can be made ahead and refrigerated for three days or frozen for two months. And, the Besciamella also can be prepared a day or two ahead. Just be sure to place a sheet of plastic wrap directly on the top of the sauce before refrigerating.
The recipe makes eight hearty portions, but can serve as many as 12-16 depending on the appetites of your guests.
Seafood Cannelloni with Tomato Coulis and Besciamella
For the Pasta:
6 large eggs, at room temperature
1 1/2 cups flour
1/4 teaspoon salt
1 1/2 cups water
1/4 cup (1/2 stick) melted butter, for brushing the sauté pan
Combine the eggs, flour, salt and water. Beat until smooth. Let stand 30 minutes.
Heat a small, nonstick sauté pan over medium heat. Brush with some of the butter and pour in a scant 1/4 cup of the batter. Rotate the pan to spread the batter to the edges and cook until top is dry. Remove to a wire rack, brush pan with some more melted butter and continue until all batter is used. Stack pasta sheets, placing pieces of wax paper in between each sheet. (These may be made ahead and refrigerated for 2 days or frozen for up to 1 month.)
For the Tomato Coulis:
2 28-ounce cans diced tomatoes with garlic, basil and oregano
2 teaspoons sugar
1/2 cup chopped fresh basil leaves
Sea salt and freshly ground black pepper to taste
Place the tomatoes and sugar in the bowl of a food processor fitted with a steel blade. Pulse until the tomatoes are pureed. Pour into a saucepan and then bring to a boil over medium heat. Reduce heat and simmer for 30 minutes. Stir in the fresh basil and season to taste with salt and pepper, if needed. Set aside to cool until ready to use.

For the Seafood Filling:
2 tablespoons unsalted butter
1 pound fresh mushrooms, sliced
1 cup chopped green onion
1 pound medium shrimp, peeled and deveined
8 ounces lump crabmeat, drained and picked over for shells
1/2 cup freshly grated Parmesan cheese
Sea salt and freshly ground black pepper, to taste
Melt the butter in a large skillet over medium-high heat. Add the mushrooms and sauté until golden brown, about 5 minutes. Add the green onions and shrimp and sauté until shrimp just turn pink. Gently stir in crab meat, cheese, salt and pepper. Remove from heat and set aside.
For the Besciamella Sauce:
1/2 cup butter
1/2 cup flour
4 cups whole milk
1 cup freshly grated Parmesan cheese
Sea salt and freshly ground black pepper, to taste
Pinch freshly grated nutmeg
Melt butter in a medium saucepan over medium heat. Stir in flour and cook, stirring constantly, for 1 minute. Whisk in the milk and bring to a boil. Reduce heat to low and simmer until the mixture thickens, whisking frequently. Whisk in the cheese, salt, pepper and nutmeg. Remove from heat and fold half of cream sauce into the seafood filling.
Remaining ingredients:
1/2 cup freshly grated Parmesan cheese
1/2 cup chopped fresh parsley
To assemble the Cannelloni:
Preheat oven to 350 degrees. Spray a 9-by-13-inch baking dish with nonstick cooking spray. Spoon about one cup of the coulis in the bottom of the baking dish. Spread about 1/2 cup of the seafood filling down the center of each crepe, roll up and arrange on top of tomato coulis. Repeat with remaining crepes and filling. Spread pasta with remaining besciamella sauce and top with the remaining tomato coulis. Sprinkle with Parmesan cheese and parsley. Bake, uncovered, for about 30 minutes, until hot and bubbly.
Makes 8 servings.

Print This Page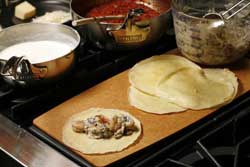 Related Menus
Italian Inspirations
Related Recipe Categories
Main Dishes

| | |
| --- | --- |
| | Karin Calloway is a working mom living in Augusta, Ga., with multiple freelance jobs and a ton of dirty dishes. |