Arancine di Riso
In addition to being fine snacks, these Sicilian Rice Croquettes make excellent antipasti at parties. If you make several small batches with different fillings, they work very well with other fried foods. Or for a lighter meal, just serve them with a tossed salad.
2/3 cup Arborio rice
3 cups water
2 tablespoons kosher salt
1/2 cup Parmigiano Reggiano cheese, finely grated
1/3 cup Italian parsley, finely chopped
1 cup English peas, cooked
1/4 cup prosciutto, or ham, finely diced
Black pepper, freshly ground to taste
1 egg
1/2 pound mozzarella or fontina cheese, cut into 1/2-inch cubes
1 egg, lightly beaten, more as needed for dredging
1 cup bread crumbs, more as needed
Canola oil as needed
Bring rice, water, and 2 tablespoons kosher salt to a boil in a small saucepan. Reduce heat to a simmer and cook for 17 minutes, or until cooked through. Drain away excess liquid in a colander, and pour the well-drained rice onto a sheet pan to cool.
When cool, mix rice with Parmigiano Reggiano, parsley, peas, and prosciutto in a large bowl. Season with salt and pepper. Gently mix in the egg. (Note: chilling the mixture in the refrigerator for one hour will make it easier to handle.)
Using wet hands, form walnut-sized balls from the rice mixture. Use only as much pressure to form the balls as necessary; less compression of the rice will make for a lighter croquette. Press a cube of mozzarella or fontina cheese into the center of each ball, sealing ball into a round of rice. Coat each of the balls with the beaten egg and roll in bread crumbs to coat.
Fill a 2-quart saucepan with canola oil to the depth of 2 inches. Bring oil to 350 degrees F. Gently lay balls into the oil and fry, 4 or 5 at a time, for 3 to 5 minutes, or until golden brown. Remove to a plate lined with paper towels.
Serve arancine immediately, or hold at room temperature, and warm in a 350 degree F oven for 5 minutes before serving.
Makes 6-8 servings

Print This Page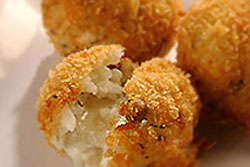 Related Recipe Categories
Appetizers
The Culinary Institute of America