Pork Chops with Ginger Ale Marinade
I'm always on the lookout for new marinades for pork and chicken. Recently, I set out to develop a marinade using ingredients I had on hand. I started with a can of ginger ale, and ended up with a winner.

Using ginger ale in a marinade has many benefits. First, you get bold ginger flavor without grating fresh ginger. The carbonation also makes the ginger ale a great meat tenderizer.

The longer the meat or poultry marinates, the more tender and flavorful it will be. Consider combining the marinade and pork loin chops before heading off to work in the morning. Dinner will be as simple as firing up the grill when you get home. The marinade is also delicious with pork tenderloin. The longer it soaks the better, so combine the marinade and meat before you head off to bed to grill the next evening.

Serve the marinated chops with your favorite packaged Oriental rice mix and some sauteed bok choy for a great meal.


1 cup ginger ale
1/2 cup soy sauce
1 teaspoon garlic powder
1/2 teaspoon dry mustard
1/2 teaspoon ground black pepper
2 tablespoons brown sugar
3 to 5 dashes Tabasco sauce
6 3/4-inch thick pork loin chops

Place marinade ingredients in a zip-top plastic bag. Squeeze to combine. Add pork chops and marinate several hours or overnight.
Heat grill on high for 5 minutes. Place chops on the grill and cook for 5 minutes per side or until internal temperature of 145 degrees is reached for medium or 160 degrees for well done when instant-read meat thermometer is inserted in center of meat. Total cooking time should be 10 to 12 minutes.

Makes 6 servings.

Print This Page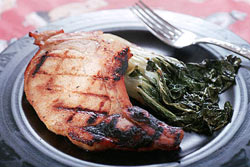 Related Recipe Categories
Main Dishes