Mediterranean Fish Fillets
Part of the fun of coming up with quick and easy recipes is finding ways to use the bevy of convenience products available in American supermarkets. From bagged salad greens to prepared lemon curd, there is no shortage of inspiration.
If I had to choose one favorite convenience product, it would probably be the seasoned diced tomatoes flavored with basil, garlic and oregano. I've developed recipes around this spicy shortcut for everything from Tomato Fondue to a creamy sauce for Shrimp Ravioli, and both recipes can be found on this site.
Here, the seasoned tomatoes provide a flavor base for a quick and delicious baked fish entrée with a Mediterranean accent. Mixed greens tossed with your favorite vinaigrette, and cooked orzo pasta tossed with butter and chopped fresh parsley would be nice side dishes.
1 14.5-ounce can diced tomatoes with basil, garlic and oregano, drained well
1/4 cup capers, drained
1 4-ounce can sliced black olives, drained
1 tablespoon extra virgin olive oil
1/4 teaspoon crushed red pepper flakes, or less, to taste
1/4 cup chopped fresh parsley
Salt and freshly ground black pepper, to taste
4 thin, mild fish fillets, such as orange roughy, tilapia or flounder (about 1 pound)
Juice of 1/2 lemon
1/4 cup crumbled feta cheese

Preheat oven to 425 degrees F. Combine drained tomatoes, capers, black olives, olive oil, crushed red pepper flakes, parsley, salt and pepper in a medium bowl.
Spray a shallow baking dish with cooking spray. Place fish fillets in dish and drizzle with lemon juice. Top each fillet with a quarter of the tomato mixture. Sprinkle some of the feta cheese over each fillet. Bake for 8 to 10 minutes, depending on the thickness of the fish.
Makes 4 servings.

Print This Page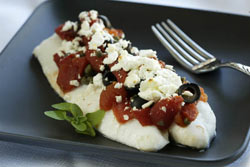 Related Recipe Categories
Main Dishes