Orange-Soy Pork Tenderloin with Mango Salsa
When I was growing up, my mother made a delicious entrée in which chicken pieces were cooked in orange soda. She lost the recipe years ago, but I have since toyed with the use of canned carbonated beverages as marinade ingredients.
My recipe for Orange-Soy Pork Tenderloin uses canned orange soda instead of orange juice with delicious results. The marinade receives an Asian saltiness from soy sauce and is spiked with fresh ginger and garlic.
The pork can be oven-roasted or grilled, and is delicious topped with homemade mango salsa. Takeout or packaged fried rice and sautéed sugar snap peas would be fitting accompaniments.
Substitute boneless, skinless chicken breast halves for a delicious alternative to the pork. And, when ripe mangos are unavailable, substitute drained canned mandarin oranges and pineapple tidbits for another tasty fruit salsa that's also delicious served as an appetizer with tortilla chips.
Pork Tenderloin
1 cup carbonated orange soda
1/2 cup soy sauce
1 tablespoon minced garlic (about 3 large cloves
1 tablespoon grated fresh ginger
1 package pork tenderloin, 2 pieces, washed and silver skin removed
Combine all ingredients in a zip-top plastic bag, squeezing well to distribute garlic and ginger. Refrigerate for several hours or overnight.
Preheat grill and when hot, grill pork over hottest part of the grill, turning every 2 to 3 minutes. Move to cooler part of grill, cover grill and cook an additional 3 minutes, or until internal temperature reaches 145 degrees for medium or 160 degrees for well done. Alternately, the pork tenderloins can be roasted in a 325-degree oven for 45 minutes.

Mango Salsa
1 tablespoon honey
Juice of 1 lime
1/2 teaspoon minced garlic (about 1 medium clove)
1 1/2 cups diced ripe mango
1/2 cup chopped red onion
1 medium jalapeno, seeded and finely chopped
Combine all ingredients in a medium bowl. Cover and refrigerate until ready to serve. Slice the pork on the diagonal and top each serving with some of the salsa.
Makes 4 to 6 servings.

Print This Page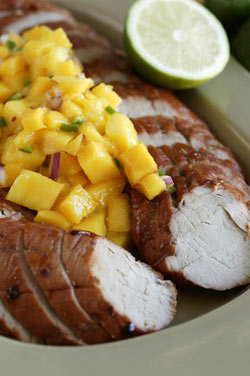 Related Recipe Categories
Main Dishes