Quick Cannelloni Besciamella
When dining in Italian restaurants, my husband will often order meat and spinach stuffed cannelloni topped with tomato and besciamella (Italian for béchamel sauce, or white sauce). Tackling the preparation of the dish at home with its homemade cannelloni crepes, two sauces and meat-spinach filling isn't a weeknight chore, to be sure.
However, with a little tinkering and some supermarket savvy, I've come up with a quick version that delivers all the flavor of the original with a lot less fuss. Off-the-shelf sauces and egg roll wrappers are the secret ingredients. And the food processor comes in handy to pulse the meat and spinach mixture to minced perfection.
The recipe yields 12 to 14 cannelloni, enough to divide into two casseroles, one for tonight and one to freeze for later. A tossed salad with your favorite vinaigrette is all you need to complete your meal!
1 tablespoon olive oil
1/2 small onion, minced
1 teaspoon minced garlic, about 1 clove
2 teaspoons oregano
1/2 lb. lean ground beef and 1/2 lb. lean ground pork (or 1 lb. lean ground beef)
1 10-ounce package frozen chopped spinach, thawed and squeezed of excess liquid
1 1/2 cups freshly grated Parmesan or Romano cheese, divided
1 16-ounce jar prepared Alfredo sauce, divided
2 eggs
Salt and freshly ground black pepper, to taste
1 30-ounce jar Marinara sauce
1 16-ounce package egg roll wrappers
1/8 teaspoon freshly grated nutmeg
Preheat oven to 350 degrees F. Heat olive oil in a large skillet over medium-high heat. Add onion and sauté until tender, about 3 minutes. Add garlic and oregano and sauté 1 minute. Add ground meat and cook, breaking up with a wooden spoon, until no pink remains. Remove from heat and set aside to cool slightly.
Place spinach in the bowl of a food processor fitted with a steel blade. Add meat mixture, 1/4 cup of grated cheese, 1/2 cup of Alfredo sauce, eggs, salt and freshly ground black pepper. Pulse until the ingredients are well combined and the meat and spinach are finely minced.
Spray a 15-by-12-inch lasagna pan with nonstick cooking spray. Spread 1/2 cup of the marinara sauce in the bottom of the pan. Place an egg roll wrapper on a flat surface. Spread a heaping1/3 cup of the meat and spinach filling on one end and roll up. Place the cannelloni seam-side down in the pan and continue with remaining egg roll wrappers and filling. Spread with the remaining marinara sauce. Stir the nutmeg into the Alfredo sauce and spread over the tomato sauce. Sprinkle with the remaining cheese, cover with foil and bake for 30 minutes.
Makes 12 to 14 cannelloni.
*Casserole may be frozen for 1 month. Bake, covered with foil, for 40 to 50 minutes.

Print This Page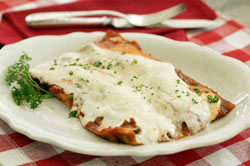 Related Recipe Categories
Main Dishes