Shrimp and Asiago Pasta
Creamy seafood pastas are ever-popular at restaurants ranging from corner bistros to national chain establishments. But why head out for dinner when a sublime shrimp pasta can be tossed together in minutes?
Supermarket shortcuts help get this elegant dish on the dinner table in a hurry. First, look for bags of frozen, peeled and deveined shrimp, or have your fishmonger peel and devein fresh shrimp for you. Second, a container of prepared Alfredo sauce can be transformed into a luscious Marsala-Asiago sauce in minutes.
Restaurant-style plate pizzazz is simple – just scatter some chopped green onions and diced tomato around the plate, then sprinkle with additional freshly grated Asiago cheese.
1 pound linguine
1 tablespoon olive oil
1/4 pound sliced pancetta, chopped
12 ounces sliced fresh mushrooms
1 teaspoon minced garlic
1 16-ounce jar Alfredo sauce
1/2 cup Marsala wine or dry sherry
1 cup shredded Asiago cheese
1 pound peeled and deveined shrimp
Chopped green onion and diced tomato, for garnish
Additional shredded Asiago, for garnish
Bring a large pot of salted water to a boil over high heat and add the linguine. Cook according to package directions, drain, place in a large bowl and set aside.
While pasta cooks, heat olive oil in a large skillet over medium-high heat. Add pancetta and fresh mushrooms and sauté until mushrooms are golden, about 5 minutes. Add garlic and sauté 1 minute more. Add Alfredo sauce and Marsala, bring to a boil, reduce heat and simmer 5 minutes. Stir in cheese and shrimp and simmer until shrimp are done, about 3 to 5 minutes. Pour sauce over linguine and toss to coat well. Serve in individual pasta bowls and garnish with chopped green onion, diced tomato and shredded Asiago.
Makes 6 servings.

Print This Page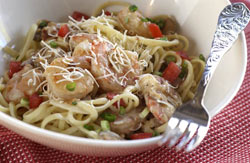 Related Recipe Categories
Main Dishes