Baked Rice
by
Rice is the perfect accompaniment to everything from a big bowl of gumbo to beef stew to fried chicken. And this recipe makes the side extremely simple to prepare. It is so simple, in fact, that I'm often reluctant to share it with the students who participate in my cooking classes. But their rave reviews and testimonials about the many times they've turned to the recipe prompted me to include it here.
Using converted white rice ensures the grains don't stick together. This type of rice is often labeled "parboiled," and it is readily available at your favorite supermarket. The rice is combined with chicken broth, a bit of butter and is seasoned with salt, garlic powder and white, red and black peppers. The ingredients are combined in an 8-by-8-inch glass baking dish which is covered tightly with foil before baking. The rice bakes up, unattended, in a little over an hour and will remain hot and ready to serve for up to 45 minutes if left covered.
3 cups converted white rice*
4 cups regular or reduced-sodium chicken broth
2 tablespoons butter or margarine, melted
1/2 teaspoon salt
1/4 teaspoon garlic powder
1 pinch white pepper
1 pinch cayenne
1 pinch black pepper
Preheat oven to 350 degrees F. Combine all ingredients in an 8-by-8-inch glass baking dish. Seal tightly with aluminum foil. Bake until rice is tender, about 1 hour 10 minutes. Fluff with a fork before serving.
Makes 8 servings.
*Uncle Ben's Converted White Rice was used for testing purposes.

Print This Page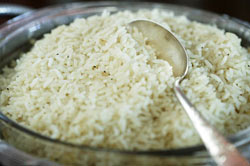 Related Menus
Southern Traditions
Related Recipe Categories
Vegetables and Sides

| | |
| --- | --- |
| | Karin Calloway is a working mom living in Augusta, Ga., with multiple freelance jobs and a ton of dirty dishes. |