Corn and Cream Savory Bread Pudding
by
When the first south-Florida corn arrives at my supermarket in the spring I am tempted to serve fresh corn to my family every day all the way through the end of summer, when the sweet corn comes from the Midwest or North. After a few weeks of nibbling sweet corn on the cob, corn turns up in other less expected places. The fresh corn adds crunch to my salsas, becomes a creamy pudding and is added to my favorite seafood risotto. And, here, it becomes part of a luscious savory bread pudding.
Bacon, green onions and thyme counter the corn's sweetness, and a combination of whipping cream and beaten eggs bind the ingredients with cubes of French bread. The delicious combination is baked, and is the perfect accompaniment to many grilled and roasted meats and seafood.
I like to pair this bread pudding with the Maple-Cured Pepper-Crusted Salmon posted on this site, but it is also delicious topped with scallop kebabs, grilled lobster tails or even simple grilled chicken breasts or steaks.
4 slices bacon, chopped
3 green onions, sliced
2 cups fresh corn or 1 9-ounce package frozen corn kernels
1 1/2 teaspoons fresh or dried thyme leaves, chopped
1 teaspoon sea or kosher salt
Freshly ground black pepper, to taste
1 1/2 cups whipping cream or half and half
2 large eggs, beaten
10 1/2-inch slices French bread, cut into cubes (2 cups of cubes)
Preheat oven to 300 degrees F. Spray a square baking pan with nonstick cooking spray and set aside.
Fry bacon in a medium sauté pan over medium heat. Remove bacon with a slotted spoon and drain on a paper towel-lined plate. Pour off all but 1 tablespoon of the bacon fat. Add green onions and cook until softened, about 2 minutes. Add corn, thyme, salt, and pepper and stir together, cooking until heated, about 1 to 2 minutes. Remove from heat and stir in cream and beaten eggs.
Place bread cubes and reserved bacon in a large bowl. Pour the corn mixture over the top and gently fold to coat the bread cubes well. Pour mixture into the prepared pan and bake until set, about 1 hour 15 minutes.
Makes 6 servings.

Print This Page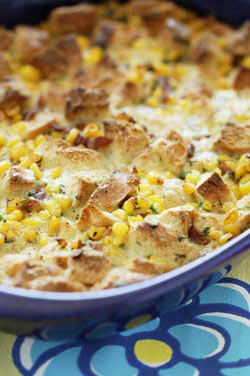 Related Menus
Signs of Spring Dinner for Six
Related Recipe Categories
Vegetables and Sides

| | |
| --- | --- |
| | Karin Calloway is a working mom living in Augusta, Ga., with multiple freelance jobs and a ton of dirty dishes. |