Southwestern Chicken Wraps
The hot trend in sandwiches is "wraps." Most often, these sandwiches are wrapped in flat bread or tortillas, but the wraps at the pizzeria near my home are rolled in pizza crust dough, and then are baked. After enjoying a meatball wrap at the restaurant, I came home and began experimenting with other variations.

Southwestern Chicken Wraps were the result of my experimentation. Refrigerated pizza dough is spread with jalapeno-Caesar dressing, then layered with grilled chicken, shredded cheese, corn, black beans, sliced black olives and green onion for a south-of-the-border spiral.

While I grilled chicken tenderloin fillets on my Viking-top grill, store-grilled or rotisserie chicken is a fine substitute. To give the sandwich a kick, I used jalapeno-Jack cheese, but shredded cheddar or Monterrey Jack could substitute if you have them on hand.

The recipe will leave you with extra corn and black beans. There are many uses for these leftovers: Add them to your favorite prepared salsa for a tasty dip, or sauté them with sugar snap peas, chopped onion and a dash of cumin for a Southwestern side dish.


8 chicken tenderloin pieces
4 tablespoons prepared Caesar salad dressing
1 tablespoon sliced pickled jalapeno peppers, chopped
1 10-ounce package refrigerated pizza dough
2 tablespoons flour
1/2 cup shredded Jalapeno-Jack, Monterrey Jack or cheddar cheese
1/2 cup canned shoe peg corn, drained
1/2 cup canned black beans, rinsed and drained
2 tablespoons sliced black olives
1 green onion, chopped

Preheat oven to 400 degrees F. Turn range-top grill to high and preheat 5 minutes. Season chicken tenderloin pieces with salt and pepper, reduce grill heat to medium and grill 3 to 5 minutes per side, until cooked throughout.
Combine Caesar dressing and chopped jalapenos in a bowl and set aside. Open pizza dough and divide in half. Roll half of dough into a 7 x 9-inch rectangle on a cutting board or other flat surface that has been sprinkled with some of the flour.

Spread the dough with half the dressing; place half of chicken tenderloin pieces along one 9-inch side of the dough. Sprinkle with half of cheese, corn, black beans, black olives and chopped green onion. Roll jellyroll fashion, beginning with the end that is layered with the ingredients, and place on a parchment-lined baking sheet. Repeat with remaining dough and bake for 25 to 30 minutes. Slice each wrap into four pieces and serve.
Makes 4 servings.


Print This Page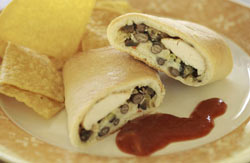 Related Recipe Categories
Main Dishes