Date-Nut Torte
by
Desserts can be over-the-top, rich and decadent, but sometimes you just crave comfort. When that's the case, nothing beats this Date-Nut Torte.
A buttery cake base redolent with chopped dates and walnuts is a familiar combination. Add cinnamon, nutmeg and cloves and you've got a sublime spice cake that's as homey as any dessert your grandmother would make.
The torte is delicious warm from the oven, topped with vanilla ice cream or freshly whipped cream as an ending to our Memorable Moroccan menu. It's also a simple-to-prepare dessert that's a welcome finale for an autumn supper of hearty soup or stew.

Date-Nut Torte


2/3 cups butter, softened
2/3 cups sugar
4 eggs
1 teaspoon baking powder
2/3 cups all-purpose flour
1 teaspoon ground cinnamon
1/2 teaspoon ground nutmeg
1/2 teaspoon ground cloves
1/2 cup milk
1 teaspoon vanilla extract
1 cup chopped dates
1/2 cup chopped walnuts
Powdered sugar, for garnish
Vanilla ice cream or freshly whipped cream, optional






Preheat oven to 325 degrees. Grease and flour an 8-inch cake pan.
Cream butter and sugar together in a stand mixer until light and fluffy. Beat in the eggs, one at a time, until all are incorporated.
Combine the baking powder, flour, cinnamon, nutmeg and cloves in a bowl. Add to the butter mixture. Add the milk and vanilla and blend until combined. Fold in the chopped dates and walnuts and pour the mixture into the prepared pan. Bake for about 35 to 40 minutes, until a knife inserted into the center comes out clean.
Makes 8 servings.

Print This Page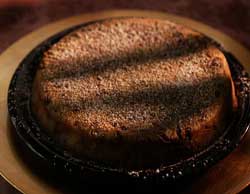 Related Menus
Memorable Moroccan
Related Recipe Categories
Desserts

| | |
| --- | --- |
| | Karin Calloway is a working mom living in Augusta, Ga., with multiple freelance jobs and a ton of dirty dishes. |