Dry Rub Barbecue Salmon with Relish
1 1/2 teaspoons light brown sugar
1 1/2 teaspoons freshly ground black pepper
1 1/2 teaspoons sweet paprika
1 1/2 teaspoons chile powder
1 1/2 teaspoons kosher or sea salt
1/2 teaspoon garlic powder
4 (6-ounce) center-cut salmon fillets, skin on
2 teaspoons grapeseed or canola oil
Preheat oven to 450 degrees F. Combine brown sugar, pepper, paprika, chile powder, salt and garlic powder; stir to mix thoroughly. Coat the tops (flesh side) of the salmon fillets evenly with the spice mixture. Refrigerate for at least 30 minutes and up to 4 hours.
Heat a large, ovenproof sauté pan over medium-high heat. Add grapeseed oil and heat through. Place salmon, skin-side down, into sauté pan. Cook until skin is crisp, approximately 2 to 3 minutes. Transfer the pan to the oven and cook until the salmon is cooked to desired doneness, about 5 to 6 minutes for medium, about 6 to 8 minutes for medium well.
Remove salmon from pan, then slide a metal spatula between the fillet and the skin. Lift the fillet away from the skin; discard the skin or save for another use. Place the salmon on a warmed serving plate; **spoon the relish over each fillet and serve immediately.
Relish
2 medium ripe red tomatoes, seeded and diced
2 green onions, ends trimmed, green and white parts thinly sliced on the bias
1 small yellow bell pepper, stemmed, seeded, and diced
1/2 English cucumber, seeded and diced
2 teaspoons minced cilantro
1 tablespoon freshly squeezed orange juice
1 tablespoon red wine vinegar
1 tablespoon extra-virgin olive oil
Salt, to taste
Freshly ground black pepper, to taste
Granulated sugar, to taste
Combine tomatoes, green onions, bell pepper, cucumber, cilantro, orange juice, vinegar, and oil; toss to mix thoroughly. Season to taste with salt, pepper, and sugar. Refrigerate until needed.
Tips and Techniques
* For complete accuracy, insert an instant-read thermometer into the thickest part of the fish. All fish is done at 137°F, but 134°F leaves a hint of translucence and more moisture. If you prefer fish less done, remove it at 120° to 125°F.
** Some people love to eat the crispy skin, but it is easily removed if desired. To remove, slide a metal spatula between the fillet and the skin. Lift the fillet off of the skin.
Serves 4

Exclusive recipes provided by Viking Cooking School.

Print This Page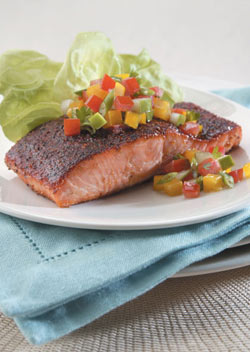 Related Menus
Easy Summer Dinner Party

Related Recipe Categories
Main Dishes
Viking Cooking School Recipes
Viking Owner's Exclusives