Eggnog Punch
by
2 qt. eggnog
1 bottle sparkling non-alcoholic cider
3/4 cup spiced dark rum (optional )
1 16-oz. can whole berry cranberry sauce
In a blender, place cranberry sauce and 2 cups of eggnog. Blend until smooth and pour into a small ring mold or ice cube trays to freeze over night.
The next day, in a large punch bowl, combine the eggnog and sparkling cider. Stir in the rum if you're using it. Pop in the frozen cranberry ice cubes or frozen cranberry ring and serve.
Serves 8

Print This Page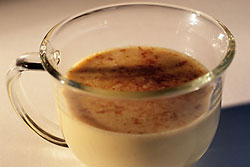 Related Recipe Categories
Beverages

Gale Gand is the executive pastry chef at Cenitare Restaurants. Outside her culinary endeavors, Gale is an established author publishing six books with her most recent book, "

Chocolate and Vanilla

," published in October 2006.