Red Hot Nuts and Bolts
by
It's always good to have a little pick-up nibble on hand during the holidays and this spicy, crunchy snack mix fills the bill. A bowl of Red Hot Nuts and Bolts will please your holiday drop-in guests, or pack it into Chinese takeout containers as a welcome hostess or teacher gift.

This makes a big batch of snack mix and the Viking roasting pan is the perfect size to accommodate the whole recipe. If you'd like to tone down the heat a little, decrease the Tabasco sauce and chili powder by half.


1 box Wheat Chex
1 box Crispix
1 bag or box thin pretzels
3 cups cheese crackers
2 cups pecan halves
1 cup melted butter, bacon drippings or margarine
1 cup vegetable oil
1/3 cup tablespoons Worcestershire sauce
2 tablespoon Tabasco sauce
1/4 cup chili powder
3 tablespoons garlic powder
2 tablespoon celery salt
Special equipment: Large baking pan - a turkey roaster works well

Preheat oven to 250 degrees F. Combine cereal, pretzels and cheese crackers in a large roasting pan. Combine melted butter, oil and remaining ingredients in a medium bowl and stir well. Pour seasonings over cereal and stir well with large spoon. Bake for 1 hour, stirring every 15 minutes.  Cool and store in an airtight container.
 
Note: Peanuts, oyster crackers, sesame sticks and Goldfish also make nice good additions to the recipe.

Print This Page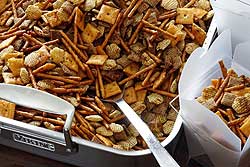 Related Menus
Gifts of Food
Related Recipe Categories
Appetizers

| | |
| --- | --- |
| | Karin Calloway is a working mom living in Augusta, Ga., with multiple freelance jobs and a ton of dirty dishes. |