Cider-Brined Pork Loin
Apples and pork are a perennial favorite! The pork pairs beautifully with the sweet potatoes and fennel, grilled alongside the pork on your C4. Or, omit the vegetables and serve with your favorite side dishes. A Viking V-rack with drip pan can be used to help cook your pork over indirect heat and also to catch drippings, preventing flare-ups.
Brine


3 cups apple cider or apple juice
2 cups water
1/4 cup coarse sea or kosher salt
1/2 cup pure maple syrup
1 tablespoon coarsely ground black pepper
6 fresh sage leaves, sliced into thin slivers, or 1 teaspoon rubbed dried sage
Other ingredients


1 4-pound center-cut pork loin, washed and dried with paper towels
4 tablespoons olive oil, divided
1 tablespoon minced fresh garlic (about 3 large cloves)
2 teaspoons coarse sea salt or kosher salt, plus additional for seasoning the fennel
2 teaspoons freshly ground black pepper, plus additional for seasoning the fennel
1/2 teaspoon ground nutmeg
1/2 teaspoon ground cinnamon
4 medium-large sweet potatoes or yams, washed, dried and poked in several places with
the tip of a pairing knife
2 medium fennel bulbs, washed, dried and sliced vertically into 1/4 - inch slices
Combine the brine ingredients in a 2-gallon zip-top freezer bag, squeezing well. Add the pork loin, seal bag tightly and refrigerate overnight.
Preheat C4 to 350ºF
While your C4 is heating, remove the loin from the brine. Discard the brine. Rinse off the loin, pat dry with paper towels and lay on a cutting board or large baking sheet. Drizzle with approximately 2 tablespoons of the olive oil. Massage the garlic into the loin and sprinkle with the salt, pepper, nutmeg and cinnamon. Rub the spices into the meat, so that they adhere to the pork. Place loin on V-Rack over Drip Pan, if desired.
Place rack in C4 and add pork and sweet potatoes. Close dome and adjust top damper almost completely closed and open the bottom damper halfway to maintain even cooking temperatures. Grill pork and potatoes for approximately 1 1/2 hours, turning every 20 minutes for even browning. Pork is ready to remove when instant-read or digital thermometer inserted in the center registers 145ºF. (Meat will continue cooking for 5 to 10 minutes after removal, reaching 150 to 155ºF.) Remove pork and potatoes from grill. Cover with aluminum foil and set aside.
Open top and bottom dampers completely and close C4 for 5 minutes. When temperature has risen to 500ºF, add the fennel to the C4 and brush with olive oil and season with some of the coarse salt and black pepper. Close dome and Grill 5 minutes. Open dome; turn fennel slices, close dome and grill 4 to 5 minutes longer, until slightly soft and caramelized.
Makes 8 servings

Print This Page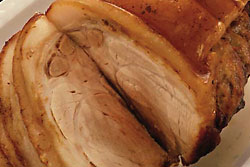 Related Recipe Categories
Main Dishes
C4 Outdoor Cooker Cookbook