Ginger Ale Pork Tenderloin
Ginger ale and soy sauce give this tenderloin a delicious Asian flavor.
1 cup ginger ale
1/2 cup soy sauce
1 teaspoon garlic powder
1/2 teaspoon dry mustard
1/2 teaspoon freshly ground black pepper
2 tablespoons brown sugar
3 to 5 dashes Tabasco sauce
2 pork tenderloins, 1 1/2 to 2 pounds total, well trimmed
Combine all ingredients except pork in a zip-top plastic bag. Squeeze to combine. Add the pork tenderloins and marinate several hours or overnight. Remove tenderloins from marinade and set aside while you heat your C4.
Preheat C4 to 350 degrees F. Open dome, place rack in C4, add pork tenderloins and close the dome. Close the top damper almost completely and the bottom damper half way.
After 30 minutes, open dome and turn the tenderloins. Close dome and cook 15 minutes more, until internal temperature reaches 145 degrees F. Remove and set aside for 5 to 10 minutes, (tenderloins will increase in internal temperature to 150 to 155 degrees F. Slice diagonally and serve.
Makes 4 to 6 servings

Print This Page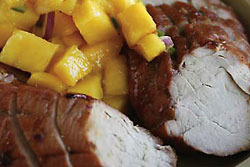 Related Recipe Categories
Main Dishes
C4 Outdoor Cooker Cookbook