Best Barbecued Beef Brisket
This tasty brisket gets an overnight flavor rub, and then smokes up in your Viking C4 in about five hours of low and slow cooking. Your favorite barbecue sauce can be brushed sparingly over the brisket during the last 15 minutes of cooking.
Rub


1/2 cup paprika
1/4 cup sea or kosher salt
1/4 cup granulated sugar
1/4 cup ground cumin
1/4 cup chili powder
1/4 cup coarsely ground black pepper
2 tablespoons granulated garlic or garlic powder
2 teaspoons cayenne
Other ingredients


1 4 to 5 pound trimmed brisket section
1 handful hickory, oak or pecan chunks
Water
Barbecue sauce, optional
Combine rub ingredients in a bowl. Massage half of rub into brisket, place in a 2-gallon zip-top plastic freezer bag and refrigerate overnight. Cover bowl with plastic wrap or store remaining rub in a zip-top plastic bag.
Remove brisket from refrigerator and rub with remaining spice mixture. Set aside at room temperature while you light your Viking C4. Place the wood chunks in a bowl, cover with water and set aside.
Preheat C4 to 200-220 degrees F. Drain wood chunks and sprinkle a few chunks over the hot coals. Place rack in C4. Place brisket, fat-side down, on the rack, close dome, and then close top damper completely and bottom damper halfway. Smoke for 3 hours, adding additional wood chunks every hour.
After 3 hours, remove brisket and place on a large sheet of heavy-duty aluminum foil. Return to the C4 and cook an additional 1 1/2 to 2 hours, or until internal temperature registers 170 -180 degrees F on an instant-read or digital meat thermometer, adding additional wood chunks every hour. Remove brisket from foil, return to rack and brush with barbecue sauce, if desired. Close dome and open top and bottom dampers completely, allowing C4 to come to 375 degrees F. Cook meat until an internal temperature of 200 - 205 degrees F is reached, approximately 15 minutes. Remove from C4 and allow to rest at room temperature for 15 minutes before slicing thinly against the grain.
Makes 6 to 8 servings

Print This Page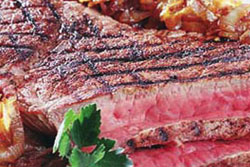 Related Recipe Categories
Main Dishes
C4 Outdoor Cooker Cookbook