Mango Gazpacho with Spiced Shrimp Skewers
by
Gazpacho is a summertime favorite because it's simple to prepare, it's cold and it highlights in-season produce. While most gazpachos are tomato-based, this luscious, crunchy gazpacho includes no tomatoes but has a healthy dose of ripe mangoes instead.
Serve the soup and skewers in martini glasses, and freeze the glasses to keep the gazpacho ice cold. Your guests can drink the soup right out of the glasses or you can place each glass atop a pretty plate and the soup can be eaten with spoons.
Mango Gazpacho
4 cups diced mango, about 5 peeled, seeded and diced mangoes
3 tablespoons fresh lime juice
1 cup fresh orange juice
Dash Hot Sauce
1/2 cup finely diced pineapple dice
1/2 cup finely diced cucumber
1/4 cup finely diced red bell pepper
1/2 cup finely diced sweet onion
1 tablespoon fresh minced jalapeno
1 medium ripe avocado, peeled and diced, for garnish
Grilled Shrimp Skewers (see below), for garnish

Place 6 martini or margarita glasses in the freezer.
Combine 3 1/2 cups mango, lime, orange juice and hot sauce in a blender. Blend until pureed and pour into a bowl, cover and refrigerate. Stir remaining mango, pineapple, cucumber, red bell pepper, onion and jalapeno together in another bowl. Cover and chill for at least 30 minutes, or until ready to serve. Stir diced avocado into the chopped vegetable and fruit mixture. Ladle the gazpacho in the frozen glasses, add some of the diced mixture, and garnish with a grilled shrimp skewer.
Spiced Shrimp Skewers
6 short bamboo skewers
12 large shrimp
1 tablespoon olive oil
1 tablespoon Jerk seasoning (see below)
Place skewers in a shallow baking dish and cover with cold water. Place shrimp in a bowl, drizzle with the olive oil and toss with the jerk seasoning. Cover and refrigerate for 30 minutes. Turn gas grill on high for 5 minutes. Reduce heat to medium-low. Place two of the marinated shrimp on each skewer and grill for 1-2 minutes per side.
Makes 6 servings.
Jerk Seasoning
2 teaspoons dried thyme
2 teaspoons ground allspice
2 teaspoons ground black pepper
1/2 teaspoon ground cinnamon
1/2 teaspoon cayenne pepper
1/2 teaspoon salt
Makes about 3 tablespoons.

Print This Page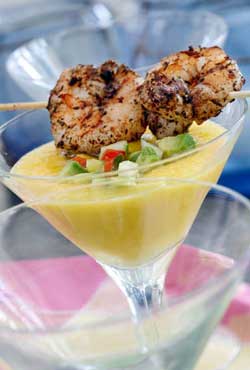 Related Menus
Put on Some Reggae Music
Related Recipe Categories
Appetizers

| | |
| --- | --- |
| | Karin Calloway is a working mom living in Augusta, Ga., with multiple freelance jobs and a ton of dirty dishes. |