Herb-Stuffed Salmon Roulade
by
There are so many ways to prepare salmon and now that the health benefits of fish oils are being touted, we're all looking ways to include more in our diet.
This preparation brings new elegance to a large salmon fillet by butterflying it, spreading it with a citrus, herb and garlic paste and then forming a roulade. The whole roulade can be roasted in a 400 degree oven for 25 minutes, but slicing the roulade into individual servings, browning them in a hot skillet and then finishing them in a hot oven makes an especially elegant presentation.
If you'd like to enhance the flavors of the salmon further, top each roulade with a slice of composed butter. Combine softened butter with garlic, citrus zest, salt and pepper to taste, and then spread on a sheet of plastic wrap. Roll into a log and then refrigerate until ready to serve the salmon. The combination will really bring out the flavors of the filling.
1 tablespoon minced garlic, about 3 large cloves
1 bunch fresh parsley, washed and dried, leaves removed and finely chopped
1 bunch fresh dill, coarsely chopped
1 bunch fresh basil, coarsely chopped
Zest from 1 lemon
Zest from 1 lime
2 tablespoons extra virgin olive oil
1 3-pound skinless salmon fillet
Sea salt and freshly ground black pepper
3 tablespoons olive oil
3 tablespoons butter
Place garlic in the bowl of a food processor fitted with a metal blade along with the parsley, dill, basil, citrus zest and olive oil. Season with salt and pepper and pulse until mixture forms a paste. Set aside.
Cut a piece of wide, heavy duty aluminum foil four inches longer than the length of the salmon fillet. Cut a piece of parchment paper the same size as the foil. Lay parchment paper on top of the foil and brush with enough olive oil to coat lightly. Place salmon on the parchment paper and carefully butterfly it lengthwise, being sure not to completely cut through the flesh at the end. Open it into a double width fillet and season with salt and pepper. Spread with the garlic-herb mixture.
Fold 1/4 of the top piece of the salmon over and begin to roll jelly-roll style. Roll the foil-parchment sheet around the outside and twist the ends together. Chill for at least 1 hour. (Roulade can be prepared up to this point and refrigerated overnight.)
Preheat oven to 450 degrees F. Cut the roulade into 8 equal slices, each about 2 1/2-inches thick, cutting though the foil but leaving it intact. Heat some of the olive oil in a heavy skillet over medium-high heat. Add the slices and sear for 2 minutes per side, until browned. Place the roulades on a baking sheet and bake for 5 minutes.
Makes 8 servings.

Print This Page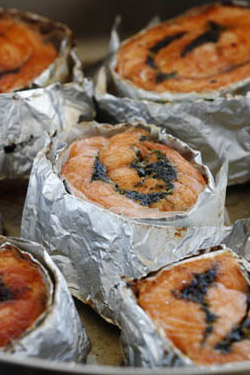 Related Menus
New American Gourmet
Related Recipe Categories
Main Dishes

| | |
| --- | --- |
| | Karin Calloway is a working mom living in Augusta, Ga., with multiple freelance jobs and a ton of dirty dishes. |