Spanish Meatballs in Saffron Sauce
by
Meatballs appear in almost every culinary culture and these tender, saffron-scented meatballs hail from Spain. They include a combination of ground pork and veal, but use all veal if you want to splurge on some of the most delicate meatballs imaginable.
The meatballs are coated in flour and baked in the oven, a step that saves you the mess associated with pan-frying meatballs in oil in a hot skillet. While the meatballs bake, whip up the sauce. Garnish the sauced meatballs with some chopped fresh parsley and crunchy chopped almonds for a savory dish for a tapas buffet, or as an entrée atop saffron rice.
Meatballs


2 tablespoons olive oil
1 pound ground pork
1 pound ground veal
1 tablespoon chopped fresh parsley
1 teaspoon minced garlic, about 1 large clove
2 large eggs, beaten
2 1/2-inch-thick slices French bread, soaked in water and squeezed dry
1 teaspoon sea salt
1 teaspoon freshly ground black pepper
All purpose flour
Preheat oven to 450° F. Coat the bottom and sides of a large baking sheet with olive oil and set aside. Mix pork, veal, parsley, garlic, egg, bread, salt and pepper in medium bowl. Mix well and shape meat mixture into 1-inch meatballs. Place flour on a plate, roll meatballs in flour, and then place on the prepared baking sheet. Bake for 5 minutes. Remove from oven, turn meatballs and return them to the oven for 5 minutes more.

Saffron Sauce


2 tablespoons olive oil
1 medium yellow onion, chopped
1 teaspoon minced garlic, about 1 large clove
2 teaspoons smoked Spanish paprika
1 1/2 cups reduced-sodium chicken broth
1/2 cup dry white wine
2 pinches saffron threads, crumbled
1/4 cup chopped fresh parsley, plus additional for garnish
Finely chopped sliced almonds, for garnish
While the meatballs cook, heat olive oil in a large skillet over medium-high heat. Add onion and sauté until tender, about 5 minutes. Add garlic, paprika, broth, wine, saffron and 1/4 cup of parsley. When the meatballs are done, add them to the skillet and cook, covered, for 20-25 minutes, until the sauce thickens and the meatballs are done. Taste sauce and season with salt and pepper as needed. Serve on a platter and sprinkle with chopped parsley and chopped almonds.
Makes 12-16 servings.

Print This Page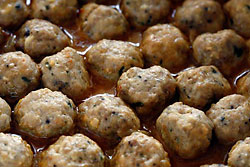 Related Menus
Tempting Tapas
Related Recipe Categories
Appetizers

| | |
| --- | --- |
| | Karin Calloway is a working mom living in Augusta, Ga., with multiple freelance jobs and a ton of dirty dishes. |