Tiny Blue Cheese Biscuits with Seared Beef Tenderloin
Many people love the combination of steak and blue cheese. These flavors are what make this recipe so appealing. Thin slices of tenderloin are tucked into savory biscuits and then crowned with a dollop of sweet and pungent cranberry chutney.
Biscuits


1 1/2 cups unbleached all-purpose flour, plus extra for dusting
1/2 tablespoon double-acting baking powder
1/2 tablespoon granulated sugar
1/2 teaspoon fine salt
1/2 teaspoon coarsely ground black pepper, or to taste
1/4 teaspoon baking soda
2 tablespoons unsalted butter, very cold, cut into 1/4-inch cubes
1/2 cup crumbled blue cheese
1 tablespoon thinly sliced fresh chives
3/4 cup buttermilk, very cold
2 tablespoons lightly salted butter, melted
Preheat oven to 450 degrees F. Position an oven rack in the middle of the oven. Place flour, baking powder, sugar, salt, pepper and baking soda in the work bowl of a food processor. Pulse several times to combine. Remove the top of the processor, and scatter the cubes of butter over the flour mixture. Being very careful to avoid the blade of the processor, toss the cubes to coat them lightly with flour. Replace the top of the processor, and pulse 12 to 15 times, holding each pulse for one second. The mixture should resemble coarse meal. Add the blue cheese, and pulse 1 or 2 more times.
Pour the contents of the processor into a medium mixing bowl. Add chives, and stir to combine; add buttermilk all at once, and stir until just mixed. The dough will be wet and shaggy.
Transfer dough to a lightly floured work surface; pat dough into a 3/4-inch thick circle. To cut biscuits, dip a 2-inch cutter into flour, then cut straight down without twisting. Continue dipping the cutter in the flour between each biscuit. Space biscuits 1-inch apart on an ungreased baking sheet, then brush with melted butter. Bake until golden brown, about 12 minutes; transfer to a cooling rack for 8 to 10 minutes, or until needed.
Beef
1 (8-ounce) filet mignon, brought to room temperature
Salt and freshly ground black pepper, to taste
1 tablespoon canola oil
2 tablespoons mayonnaise or aïoli
Cranberry chutney (or cranberry sauce),* as an accompaniment
Season filet liberally on both sides with salt and pepper. Place a sauté pan over high heat; add oil and heat through. Sear beef on both sides until a dark brown crust forms, about 3 minutes per side. If necessary, finish cooking beef in the oven until it is medium-rare, about 3 more minutes, or until an instant-read thermometer registers 130 degrees F. Set filet flat on the cutting board; let it rest for about 15 minutes.
Cut the rested filet from top to bottom (against the grain) into thin slices; fold the slices into neat, ruffled stacks (think ribbon candy). You may not use all of the beef strips for the canapés.
Cut biscuits in half crosswise, then arrange all the biscuit bottoms on a serving platter; spread a thin layer of mayonnaise (or aïoli) evenly over each half. Attractively arrange a beef stack on each biscuit bottom, then top with a spoonful of cranberry chutney (or sauce); replace the biscuit tops, and serve immediately.
Tips and Techniques
* Cranberry chutney may be found in specialty markets or online at stonewallkitchen.com or igourmet.com.
Makes 12 biscuits


Exclusive recipes provided by Viking Cooking School.

Print This Page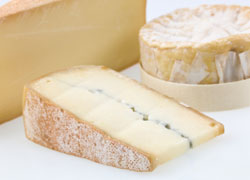 Related Menus
Champagne Cocktail Party

Related Recipe Categories
Appetizers
Viking Cooking School Recipes
Viking Owner's Exclusives