Texas Cake
From the kitchen of Jim & Bridget, Viking Owners
This recipe was perfected in the kitchen of a real Viking customer. Join
My Viking Kitchen
and enjoy more recipes like this, plus cooking tips and special offers exclusively for owners of a Viking kitchen.
Jim & Bridget, Viking Owners
How often do you cook in your Viking kitchen?
Every day – at least twice, and quite often three meals.
What's your most memorable kitchen moment?
I love to cook with my husband while our entire family is sitting at the island, swapping stories.
What does your Viking kitchen mean to you?
I love the versatility. I have more options, so I can be more efficient in my cooking.
What is one of your favorite dishes to cook?
Texas sheet cake!
Texas Cake
2 cups flour
2 cups sugar
½ teaspoon salt
2 eggs
½ cup sour cream or buttermilk
1 tsp. baking soda
1 cup margarine
1 cup water
4 Tbsp. cocoa
Combine flour, sugar, salt, eggs, sour cream, and baking soda. In a saucepan, boil margarine, water and cocoa. Add to flour mixture. Mix well and pour into a greased 18x12x1-inch cookie sheet. Bake at 350 degrees F for 20-25 minutes.
Icing
½ cup margarine
6 Tbsp. milk
4 Tbsp. cocoa
1 box (16 oz.) powdered sugar
1 tsp. vanilla extract
1 cup chopped pecans
In a saucepan, boil the margarine, milk, and cocoa. Mix powdered sugar, vanilla, and pecans. Combine the two mixtures and stir. Ice cake in the cookie sheet as soon as it comes from the oven.
Yields 12-16 servings.

Print This Page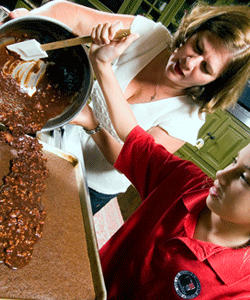 Related Recipe Categories
Unlinked
Viking Owner's Exclusives