Margarita Presidente
From the kitchen of Stephen & Melanie, Viking Owners
This recipe was perfected in the kitchen of a real Viking customer. Join
My Viking Kitchen
and enjoy more recipes like this, plus cooking tips and special offers exclusively for owners of a Viking kitchen.
Stephen & Melanie, Viking Owners
How often do you cook in your Viking kitchen?
Every night.
What's your most memorable kitchen moment?
Having everyone home for Stephen's mother's 90th birthday. The house was full of people. Some were cooking, others watching. Some washed dishes or tended bar while others sat outside on the patio of fished in the pond – but there was noise and laughter everywhere.
What does your Viking kitchen mean to you?
Harmony!
What is one of your favorite drinks to make?
Margaritas!
Margarita Presidente
1.25 oz Sauza Conmemorativo Tequila
1/2 oz. Cointreau
1/2 oz Presidente brandy
1/4 c. Sweet and Sour mix
1 splash roses lime juice
Blend all ingredients with 1/2 blender pitcher of ice, serve and enjoy!

Print This Page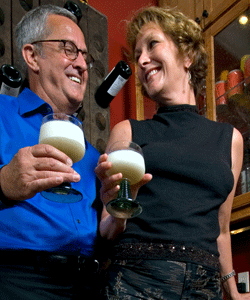 Related Recipe Categories
Unlinked
Viking Owner's Exclusives