Beef Sate
by
Sate can be made with a variety of foods. In fact, practically anything served on a bamboo skewer is a "sate." Pork and chicken are the most common on restaurant menus, but here, thin slices of beef are given a flavorful marinade and are grilled. The grilled Beef Sate is served with a flavorful dipping sauce.
The sate make a great appetizer as part of an Asian buffet, and can also be served as an entrée with sides of steamed rice and stir fried vegetables.
Sate
1 onion, peeled and coarsely chopped
3 cloves garlic, peeled
1 2-inch piece fresh ginger, peeled and coarsely chopped
1/4 cup sugar
1/2 cup soy sauce
1/4 cup sesame oil
1 tablespoon chili oil or Asian hot sauce (such as Sriracha)
1 1/2 pounds flank steak, cut into thin slices
Dipping Sauce
4 tablespoons peanut butter (or 1/4 cup finely chopped peanuts)
2 tablespoons warm water
Combine onion, garlic, ginger, sugar, soy, sesame oil and chili oil or hot sauce in a food processor fitted with the "S" blade. Pulse until the mixture forms a smooth, wet paste. Pour half of the marinade into a zip-top plastic bag. Add the beef, seal the bag and refrigerate for 4 hours or overnight.
Combine the remaining marinade with the peanut butter and water in a small bowl. Set aside until ready to use, or cover and refrigerate overnight.
When ready to serve, heat indoor or outdoor grill. Thread the beef onto skewers and grill for 1-2 minutes per side, basting with the marinade once on each side. Serve immediately with the dipping sauce.
Makes 8 appetizer servings or 4 entrée servings.

Print This Page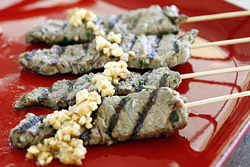 Related Menus
Asian Soups and Starters
Related Recipe Categories
Appetizers

| | |
| --- | --- |
| | Karin Calloway is a working mom living in Augusta, Ga., with multiple freelance jobs and a ton of dirty dishes. |