Zesty Lamb Kebabs
by
Kebabs are perfect party fare, and these Zesty Lamb Kebabs will be a welcome addition to your next event. They're extremely flavorful and pair beautiful with a glass of hearty red wine.
While I used lamb tenderloins, which are only available at gourmet butcher shops, you can substitute cubes of boneless leg of lamb. The kebabs also can be served as a main dish alongside some simple couscous (see Spiced Couscous recipe on this site) and a steamed vegetable.
Zesty Lamb Kebabs
1 tablespoon minced garlic, about 3 large cloves
3 tablespoons extra-virgin olive oil
1 tablespoon fresh rosemary, finely chopped
1 teaspoon paprika
1 teaspoon ground cumin
1/2 teaspoon cayenne pepper
1/2 teaspoon ground all spice
1/2 teaspoon ground cinnamon
1 tablespoon chopped fresh thyme leaves
1 tablespoon finely grated lemon zest
Sea salt and freshly ground black pepper
4 pounds lamb tenderloins or boneless leg of lamb trimmed and cut into 1-inch-by-3-inch strips
Wooden skewers, soaked in warm water for 30 minutes, or metal skewers
Combine all ingredients except the lamb in a large zip-top plastic bag. Squeeze to combine and then add lamb. Seal bag and marinate at least 2 hours.
Thread lamb evenly onto skewers. Prepare grill to medium-high heat. Oil the grill and cook the kebabs, turning once, for about 8 minutes total for medium-rare lamb.
Makes 8 servings

Print This Page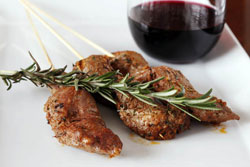 Related Menus
Wine Tasting Party
Related Recipe Categories
Appetizers

| | |
| --- | --- |
| | Karin Calloway is a working mom living in Augusta, Ga., with multiple freelance jobs and a ton of dirty dishes. |