Foil-Pouch Coconut Curried Mussels
by
Remember those foil "hobo" packets you cooked on the open fire at summer camp? Leave it to Mario Batali to find a way to use the method in an Italian, gourmet way. The Clams in Cartoccio on page 99 of his Italian Grill cookbook truly were an epiphany for me. So much so that the clams (or a substitution of mussels) appeared on our family dinner table at least six times last summer.
The first several times I followed Batali's recipe, which is delicious. Then I began experimenting with the idea of shellfish in foil packets with flavors other than Italian. We tried a Thai version, steaming the mussels in a red curry broth, and then I came up with these yummy Indian-inspired Foil-Pouch Coconut Curried Mussels.
The recipe is the perfect way to show off your Viking outdoor grill, and the clams or mussels are perfectly moist when cooked in the steamy foil packets. Once you discover the ease and outstanding end results, you'll want to come up with variations of your own.
Foil-Pouch Coconut Curried Mussels
2 shallots, finely chopped
1 tablespoon garam masala
1/4 teaspoon cayenne pepper
2 tablespoons dry sherry
1 14.5-ounce can coconut milk
3 pounds mussels, scrubbed
1 1/2 cups chopped fresh cilantro
Special supplies: Heavy duty aluminum foil
Combine the shallots, garam masala, cayenne, sherry and coconut milk in a bowl. Preheat outdoor grill. Cut 6 12-inch squares of heavy duty aluminum foil and lay them out on a large work surface. Divide the mussels among the foil pull the sides of the foil up around the mussels to create a bowl. Divide the coconut milk mixture among them. Sprinkle ¼ cup of the cilantro over each portion. Bring the four corners of each foil packet up over the mussels and twist the top together securely, creating a tight seal.
Place the packets on the preheated grill. Listen for the juices to bubble, about 2-3 minutes, and then cook the mussels for 10 minutes. Open the packets and place the mussels in large serving bowls and then pour the coconut milk mixture over the top.
Makes 6 servings.

Print This Page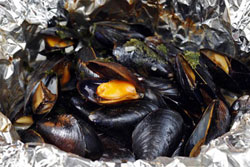 Related Menus
Indian on the Grill
Related Recipe Categories
Appetizers

| | |
| --- | --- |
| | Karin Calloway is a working mom living in Augusta, Ga., with multiple freelance jobs and a ton of dirty dishes. |