Fragrant Thai-Inspired Coleslaw
by
I seem to have a bit of a coleslaw obsession. I've developed recipes for Chipotle Slaw, Corny Coleslaw, Gingered Summer Squash Slaw, Jicama Slaw and special slaws for tuna slaw "dogs" and Tuna Reubens, and those are just the versions I've come up with for the Viking Website. I just love the crisp cabbage and the endless possibilities for variation.
I came up with this slaw to pair with the Thai-flavored Salmon Burgers on this site. The slaw is delicious served atop the burgers, but is also delicious with simple grilled salmon or tuna steaks or with the addition of steamed shrimp or shredded chicken to be served as a light main course.
Use your Viking Food Processor to shred the cabbage and carrot, or purchase pre-shredded vegetables when time is short.
Fragrant Thai-Inspired Coleslaw
3 cups finely shredded green or Napa cabbage
1 cup shredded carrot
1/4 cup rice wine vinegar
1/4 cup sesame oil
1 teaspoon brown sugar
1/4 cup soy sauce
1 tablespoon Hoisin sauce
1 bunch fresh basil, stemmed and chopped
1 bunch fresh mint, leaves removed and chopped
1/2 cup fresh cilantro leaves, chopped
1 cup dry roasted peanuts, coarsely chopped
Toss the cabbage and carrots together in a bowl. Whisk the vinegar, oil, brown sugar, soy sauce and Hoisin sauce in a bowl and toss with the vegetables. Cover and refrigerate until ready to serve. Toss the herbs and peanuts with the slaw just before serving.
Makes 6-8 side dish servings.

Print This Page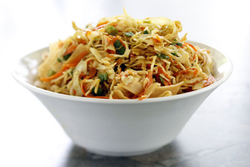 Related Menus
Casual Thai
Related Recipe Categories
Vegetables and Sides

| | |
| --- | --- |
| | Karin Calloway is a working mom living in Augusta, Ga., with multiple freelance jobs and a ton of dirty dishes. |