Autumn Orchard Supper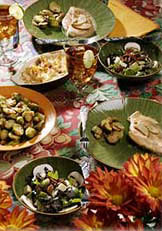 by Karin Calloway
When the evenings turn balmy and the leaves become shades from golden to red, you know it's time for the apple harvest. Even if family life remains hectic, life seems to take a slower pace, and inviting friends for dinner seems the natural thing to do.
Feature fall's harvest at your next dinner party with this month's Autumn Orchard Supper. The Special Cider Salad is an unforgettable combination of crisp apples, mixed greens, spiced pecans, blue cheese and cider vinaigrette. Apples also are featured in the entrée of Chicken Normandy, a simple yet elegant sauté.
The chicken pairs well with cooked egg noodles or white rice, but a side of sweet and savory Noodle Kugel is my preferred accompaniment. Blistered Brussels Sprouts sautéed with shallots, garlic and prosciutto will add a flavor punch to the plate.
A purely decadent chocolate dessert is the perfect ending to the meal, and individual Midnight Cakelettes definitely fill the bill.
Recipes: