Cookies and Cocoa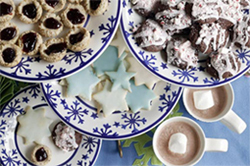 by Karin Calloway
There's nothing like the holiday season to test the limits of my Viking appliances. Over the past several years, I've hosted holiday drop-ins featuring four simmering pots of homemade soups and freshly baked rolls, cooked up multiple turkeys on every Viking appliance imaginable (both indoor and out) and spit- and oven-roasted large cuts of prime rib. But the biggest workout my Viking oven and stand mixer get is from cookie baking.
While most of my friends have begun purchasing gourmet store-bought cookies for their holiday gatherings, I'm still a cookie-baking mom at heart. And, my holiday baking work is made easier with my Viking stand mixer, food processor and convection oven.
This month's recipes feature three of my favorite cookies to get you on the way to hosting a cookie swap or holiday drop-in. My Almond-Glazed Sugar Cookies are everyone's favorite, and I can bake three sheets of cookies at once using the convection feature of my Viking range. With my Viking stand mixer and a box of devil's food cake mix, my Chocolate Peppermint Chews can be baked up in a snap. And, there's little work involved in preparing my little Raspberry Tartslets with the help of my Viking food processor.
Simmer up a big pot of my Haute Cocoa that features two types of gourmet chocolate, and your friends and family will be thrilled to gather at your house this holiday season.
Recipes: