No Turkey Talk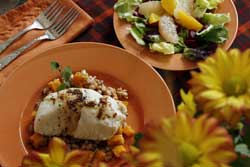 by Karin Calloway
During the holidays, there's a lot of talk in the cooking world about turkey. In fact, at Viking headquarters our consumer hotlines are abuzz with consumer questions about roasting, grilling and smoking the perfect holiday bird. I've even shared my favorite rotisserie turkey recipe on this site.
While the pursuit of the perfect holiday turkey can be consuming, the fact is that most families only serve turkey once, maybe twice, during the holiday season. This means there's plenty of holiday entertaining that goes on that doesn't involve turkey.
With this in mind, I'm sharing an autumn-themed menu I developed for a November cooking class I called "No Turkey Talk." The menu highlights in-season produce and the earthy flavors of the fall.
The menu starts with a crisp Citrus Salad that's tossed with Champagne Vinaigrette. Add some bakery rolls with this first course if you like. The main attraction is simple Roasted Halibut fillets drizzled with a tangy Rosemary Vinaigrette. The fillets are served atop a sublime White Bean and Butternut Squash Ragout. The finale for the menu is a classic combination of almond and pears, as Individual Almond Cakes are topped with vanilla ice cream and drizzled with Caramelized Pears.
The menu makes a wonderful pre-Thanksgiving dinner or a fun fall supper club. And, the individual recipes are great on their own. Who needs to worry about turkey with a menu this good?
Recipes: