Asian Cooking with Kids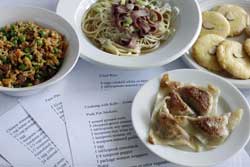 by Karin Calloway
The children are usually underfoot in the kitchen during the summer months offering a great opportunity for teachable moments. There are so many tasks children can help complete in the kitchen and their curiosity makes them wonderful culinary students.
This menu is one I've shared through children's teaching classes to children as young as 7. Many of my students' families have reported back that the dishes have become family favorites and that their student is proud to contribute to the family meals.
Pork Pot Stickers are so simple to prepare and children love them. Follow with a shortcut version of Vietnamese Pho (I like to call this quick and easy version "Faux Pho"). Fried Rice is a Chinese takeout favorite that takes little time to prepare at home. And, for dessert, some crispy, not-too-sweet Almond Cookies are perfect with a cup of hot green tea.
When cooking with children in the kitchen, be sure the first thing you teach them is kitchen safety. Remind them to always ask permission before they begin cooking, and to never use the stove when there isn't an adult present.
Tips for cooking with kids:
Roll up your sleeves and tuck in your shirt since loose garments can easily catch fire if they come in contact with a gas flame or electric element. Keep flammable items, such as recipe cards and other papers, away from the cooking surface.
Turn pots and pan handles so that they don't extend into the walkway in front of the range or cooktop. When the handles are left to the front of the range or cooktop they're easily knocked over, leading to serious burns.
Use long-handled spoons for stirring to avoid getting burned by hot foods, and if they're small, teach them to stand on a stool to avoid knocking over a hot pot.
Pay attention to what you're cooking. Don't get distracted by the television or leave what you are cooking unattended.
Recipes: