French Accent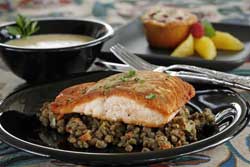 by Karin Calloway
French cuisine has a reputation for being sauce-laden, pastry wrapped and hyper-indulgent. And while most French chefs don't scrimp on butter or cream, there's a whole lot more than these high-fat ingredients in French cooking.
This month's menu offers up a French flavor just in time for a little Valentine's Day romance. Consider inviting friends over for a meal that starts with luscious Garlic Soup and crisp Gougeres. Follow with your favorite tossed salad, of try one of the salad recipes on the Viking site.
A main course of Pan-Roasted Salmon is served over a flavorful Lentil Ragout, an earthy combination your friends will love. Individual Raspberry-Almond Clafoutis are the finishing touch to this French-themed meal.
Many components of the menu can be prepared ahead. Make the soup, Lentil Ragout and Clafoutis the day before your dinner party and reheat before serving. The Gougeres can be made and frozen up to a month ahead. Just place the frozen pastries on a baking sheet and crisp in a 350-degree oven for about 15 minutes. And, you can brown the salmon an hour before your party and pop it into the oven to finish cooking while your guests enjoy their soup.
Recipes: