Italian Inspirations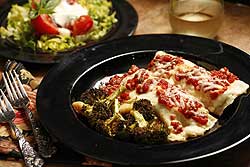 by Karin Calloway
If you're prone to daydreaming of trips to enchanted destinations, you've probably had images of Italy dancing in your head. The aura of romance and the aroma of Italy's culinary landscape would draw almost anyone to daydream about it, whether you're a frequent traveler or travel-dreamer.
This month's menu should enhance your dreams of Italian travel. And it also makes a wonderful Italian-themed dinner party for a group of your closest friends. The Italian influence is definitely here, but a few twists on classics and culinary shortcuts help keep the menu interesting and kitchen stress to a minimum.
A Warm Salad Caprese is a fun twist on the classic combination of fresh mozzarella, ripe tomatoes and basil and it's served atop a cool, crisp romaine chiffonade that's tossed with an easy Pesto Vinaigrette.
The main dish is rich Seafood Cannelloni with two sauces: besciamella (a simple white sauce) and tomato coulis. While there are several components to the dish, they all can be prepared ahead and assembled before your dinner. A side of Roasted Broccoli with Garlic requires no last-minute attention so you can enjoy your dinner guests.
For dessert, Quick Nutella Mousse is a two-ingredient, decadent-tasting dessert with absolutely no fuss. A sprinkling of freshly grated, high-quality chocolate over the top completes this simple dessert.

Recipes: