Easy Autumn Supper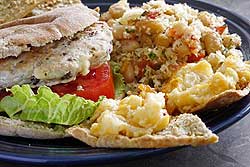 by Karin Calloway
Autumn is a busy season for families with children. There are increased after-school activities and community events calendars seem to be busting with fun things to do.
Autumn is also a fun time to entertain and this easy autumn supper menu is perfect for casual entertaining on a busy weekend. The menu starts with some bubbling Savory Sweet Onion Spread served with crisp Pita Crispers.
Feta-Stuffed Turkey Burgers are flavor-packed, but low in fat, as is our Provence-inspired White Bean Casserole. Pick up dessert from your favorite bakery enjoy a casual company or family supper with little fuss.
Recipes: