A Lighter Holiday Dinner Party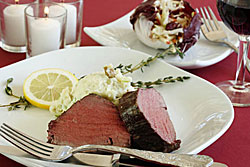 by Karin Calloway
The holidays and weight gain often go hand-in-hand. A little cookie here, a cocktail there, heavy cream in everything…it's no wonder the numbers on the scale are up when the holidays come to an end.

This menu offers a lighter holiday meal that packs lots of flavors and textures while whittling down the fat and calories. Start your meal with Crunchy Cran-Apple Salad with a dressing based on fat free vanilla yogurt. For the entrée, Slow-Roasted Beef Tenderloin is perfectly cooked, tender and lean, and a drizzle of Red Wine Jus takes the dish to a higher level.

If you love roasted potatoes, you'll enjoy our Roasted Garlic Smashed Potatoes in which the roasted potatoes and garlic are mashed along with some chicken broth, Parmesan cheese and reduced-fat sour cream.

Holiday eggnog appears at the end of this meal instead of at the beginning with simple-to-prepare Eggnog Panna Cotta that's drizzled with purchased caramel sauce. Using reduced-fat prepared eggnog from the supermarket saves you time, calories and fat.
Recipes: