Early Autumn Picnic Menu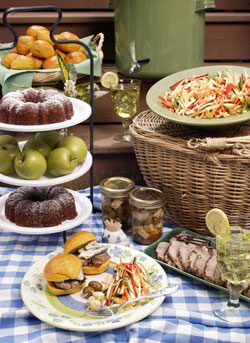 by Karin Calloway
Whether you're heading to your alma mater for a fall football game and tailgate meal, or to enjoy a picnic by the lake, this month's menu of make-ahead dishes is sure to be a hit.
Offer your guests some delicious marinated olive and cheese bites, which are best if made several days before serving. They're best served at room temperature, so no cooler space is required.
While your guests nibble, heat up the grill and flavor the air with the enticing aroma of Citrus-Brined Pork Tenderloin, then slice and serve on Curried Pumpkin Rolls spread with store-bought apple chutney and slices of blue cheese. Gingered Summer Squash Slaw is a great way to highlight the last of summer's produce, and is refreshingly light and tangy. For dessert, Jane's Oatmeal Cake is a down-to-earth hearty, homey treat.

Recipes: