Summer Salad Supper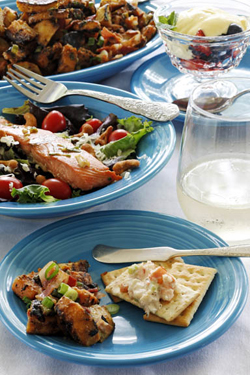 by Karin Calloway
The lazy days of summer offer the perfect opportunity for casual entertaining. Leave the china in the cabinet, forget setting the dining room table and just head to the back porch for a cool meal of hearty summer salads.

Most of the dishes in this month's Summer Salad Supper menu can be prepared ahead, and the menu offers a nice balance of flavors and textures. The centerpiece salad is mixed greens with garnishes gone wild, including bourbon-marinated salmon, cherry tomatoes, Monterey Jack cheese and honey roasted cashews.

I'm passing by traditional potato salad by offering a delicious Grilled Two-Potato Salad that can be made several hours before serving. And, for a little something extra, I'm offering up my classic Tarragon Shrimp Salad that is a hit at cocktail parties year-round. Dessert keeps things cool, too, as a simple Orange Sabayon tops the season's juicy, fresh berries. These recipes go great together, but also can be served individually as part of your next summer cookout or quick weeknight supper.
Recipes: