That's Amore Valentine's Dinner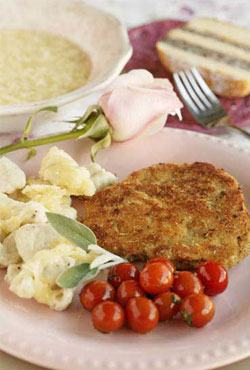 by Karin Calloway
Valentine's Day brings romance in many forms. From cards adorned with hearts and flowers, to boxes of chocolates and dozens of roses, the celebration brings out the romantic in us all. Most often the holiday celebration leads to "reservations," or looking at a long wait for a table at a romantic restaurant. This year, make the destination home and cook up a memorable "That's Amore" Italian feast.
The menu serves six, making it the perfect opportunity to invite some friends over to share a candlelit dinner. All menu items can be prepared almost completely in advance, so you can spend your evening enjoying your guests.
An antipasto platter of salami and cheeses is a simple starter, but you can take it over-the-top by adding some special Lemon and Olive Oil-Roasted Artichoke Quarters. Stracciatelli (Italian Rag Soup) is pure comfort food, and is a snap to prepare using store-bought chicken broth. Prosciutto, Sage and Fontina Pork Packets are a variation of the Trattoria favorite Veal Saltimbocca, and the packets can be made ahead and heated in the oven briefly before serving. Baked Gnocchi with Cream and Fontina is a heart side dish that can be assembled a day ahead. Sautéed grape tomatoes are all you'll need to complete your plate.
Indulge your guests in a rich Cassata Ricotta that is surprisingly simple to prepare. The layers of liqueur-soaked sponge cake and ricotta filling are sure to delight.

Recipes: