A Taste for Thai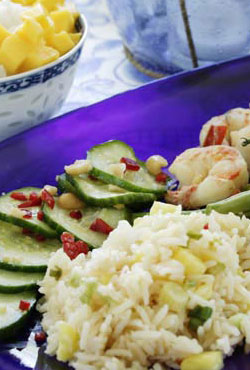 by Karin Calloway
The cuisine of Thailand, with its combinations of sweet, salty, tart and spicy flavors, is an American restaurant favorite. But supermarkets everywhere carry most of the ingredients you need to create a delicious Thai menu at home.
This month's menu, entitled "A Taste for Thai," is the perfect change of pace for an upcoming supper club or special dinner party. The menu starts with Chicken and Shrimp Dumplings, which can be made ahead, and then cooked just before serving. These are wonderful dipped in my simple sweet chile-garlic sauce.
Cucumber-Peanut Salad is traditionally served as a condiment or relish, but I like it so much that I often serve it as a salad course. Shrimp Evil Jungle Prince is my version of a hot and spicy vegetable-packed Thai curry that is cooled down with some coconut milk. And, Pineapple Fried Rice is a nice counter to the spicy shrimp, as well as being lovely dinner party fare served in a pineapple shell.
For dessert, my favorite Thai restaurant dish, Sweet Sticky Rice with Mango, is as comforting as your favorite rice pudding, but in my mind much tastier.
Three other recipes posted on the Viking site which could be added to your Thai menu and include Thai Coconut Chicken Soup with Ginger, Shrimp Pad Thai and Shrimp and Salmon Curry.
Recipes: