Italian Weeknight Dinner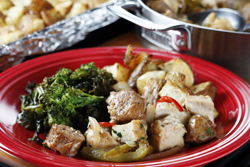 by Karin Calloway
It's Monday night. You arrive home from work and the first question the family asks isn't "How was your day?" At least at my house, the nightly question is "What's for dinner?"

With a little pre-planning on the weekend, you won't have to scratch your head while you search for an answer (or search the freezer to see what you can defrost). If you've grilled up a little extra chicken and Italian sausage on Saturday or Sunday evening you'll be able to answer: Chicken Scarpariello. Heat up the oven to roast some Rosemary Roasted Potatoes and Lemony Roasted Broccoli Raab and you'll have a family style Italian dinner on the table in around 45 minutes. The active cooking time for the whole menu is actually around 20 minutes.

Consider serving some Italian-inspired Cone-oli (recipe on this site) for dessert.
Recipes:
Lemony Roasted Broccoli Raab
This preparation makes a delicious accompaniment to almost any meat dishes, and I also love to serve it as a bed for grilled fish.More.
Rosemary Roasted Potatoes
These potatoes are flavored with fresh rosemary and are roasted along with some quartered shallots and whole garlic cloves. The potatoes also make an excellent accompaniment to grilled or broiled steakMore.
Chicken and Sausage Scarpariello
Several years ago we enjoyed a trip to New York City for our 20th anniversary. One especially memorable meal on our trip was enjoyed at Campanile, where the rustic entrée of Chicken and Sausage Scarpariello that was the culinary home run.More.