Memorable Moroccan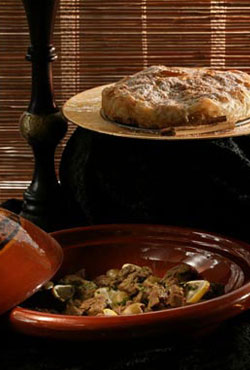 by Karin Calloway
When autumn arrives we head inside to entertain, and our carefree evenings out by the grill turn to candlelit evenings around the stove. It's the perfect time to try a new cuisine, and the fragrant flavors of Moroccan foods are a fun change of pace.
This month's menu features a bevy of easy to prepare Moroccan-inspired dishes. Chicken Bastilla is a classic Moroccan first course, and several shortcuts make this delicious combination of "sweet and savory" simpler to prepare at home. Follow the pastry with a crisp, light Moroccan Carrot Salad featuring three levels of orange flavor.
A tagine is a Moroccan stew named for the clay vessel with domed lid used to cook the dish. The Lamb Tagine featured in this menu is packed with herbs and spices and is comforting autumn fare. A side of Spiced Couscous is the perfect partner for the tagine, and can be made in a flash.
For dessert I strayed a bit from classic Moroccan cuisine and focused instead on an ingredient often used in Moroccan cooking – dates. My Date-Walnut Torte is a dense, rich and spicy single layer cake that finishes the meal perfectly.
Recipes: