Spring Chicken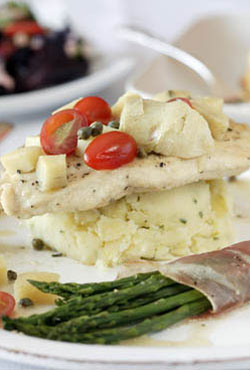 by Karin Calloway
Visit the produce section of almost any supermarket during April and the signs of spring are evident. There are plump strawberries from Florida and California and in-season bright green asparagus. Winter's lemons are still in abundant supply and fresh potted herbs have just come onto the scene.
This is my "dream" time of year, when using the freshest, in-season ingredients in simple ways results in divine dining. This month's "Signs of Spring" menu uses these seasonal ingredients with a simple menu that's elegant enough for company.
I have two philosophies when it comes to menu planning. The first is to provide a menu with varied flavors so that the palette is surprised by each course. The second, the philosophy I employ in this month's menu, offers harmony from beginning to end.
We start with a salad of mixed greens topped with a creamy strawberry dressing, sliced fresh strawberries and pistachios. The main course is a simple sauté, Chicken with Lemon, Artichokes and Grape Tomatoes, that is paired with Lemon-Chive Mashed Potatoes. Spring's fresh asparagus is wrapped in a prosciutto-parmesan blanket and is roasted. For dessert, there's more luscious lemon flavor in little Lemon Curd Cakes served with a fresh-tasting strawberry drizzle.
Recipes: