Chicken and Mushroom Wraps
by
Wraps have been popular restaurant fare for years, and they're great to serve for a quick and easy dinner or weekend lunch.
This version is a recipe I developed for the Viking Range Web site when I first began serving as their on-line chef and it is a recipe I still turn. The flavors are fantastic, and it is easy for me to make vegetarian or vegan versions if my children are entertaining friends who are either. Just omit the chicken and double the amount of mushrooms for a vegetarian version, and then eliminate the feta cheese for vegan wraps.
Chicken Portobello Wraps
1 tablespoon olive oil
3/4 pound stir-fry ready chicken breasts or 2 boneless, skinless breast halves cut into 2-inch strips 1/2 teaspoon salt
1/4 teaspoon black pepper
1 teaspoon Italian seasoning
1 heaping teaspoon minced garlic
6 ounces portobello mushrooms, cut into 1/2-inch long strips
1/2 cup bagged sundried tomatoes* or 1/2 cup sliced oil-packed sundried tomatoes, drained
5 ounces fresh spinach, washed and drained well
4 burrito-sized tortillas, at room temperature
4 ounces feta cheese
Heat olive oil in a large skillet. Add chicken, salt, pepper, Italian seasoning and garlic. Stir fry for 2 minutes. Add mushrooms and continue cooking, stirring constantly, until chicken is cooked through. Stir in sundried tomatoes and spinach. Cover and cook for 2 to 3 minutes, until spinach is wilted.
Place 1/4 of mixture in center of each tortilla. Top each with 1/4 of the feta cheese. Fold in sides of tortillas and roll up burrito-style. Slice in half and serve.
Makes 4 servings.
*If using bagged sundried tomatoes measure 1/2 cup (packed) of tomatoes and slice using a knife or kitchen shears. Place tomatoes in a microwave-safe measuring cup or bowl and cover with water. Microwave on high for 3 minutes. Drain well.

Print This Page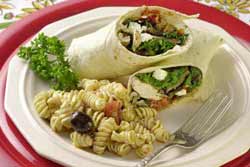 Related Recipe Categories
Unlinked Recipes

| | |
| --- | --- |
| | Karin Calloway is a working mom living in Augusta, Ga., with multiple freelance jobs and a ton of dirty dishes. |