The Ultimate Holiday Foodie Gift Guide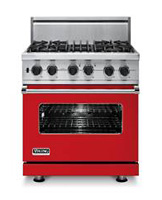 Viking Custom Series Range in Racing Red
Looking for a BOLD addition to your holiday gift guide? Look no further. Forget about the big red bow and give the gift of a Racing Red Viking Custom Series Range this holiday season. The NEW Viking range is the ultimate gift, offering a sleek contemporary look with commercial style and functionality.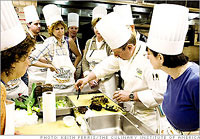 Culinary Institute of America Boot Camp
For the past decade, the CIA's Boot Camp program has been a popular way for food enthusiasts to immerse themselves in cooking. Over the course of a week, participants learn about various cuisines, ingredients, and cooking methods while getting a true feel for the intensity of a professional kitchen.
Now the CIA has created one-day Boot Camp courses to provide an alternative for those too busy to get away for a week. These Saturday courses include Asian Vegetarian, Taste of the Hudson Valley, Eastern and Western Street Food, Spanish Tapas, and Specialty Desserts.
Each one-day Boot Camp begins with a hot breakfast buffet and lecture before heading to the kitchens for an intense hands-on culinary experience. Students share their dishes and sample recipes created by other classes. A plate and presentation review follows, as does a final lecture of the student's choice. Lecture topics include the Physiology of Taste, Food Affinities, Olive Oil and Balsamic Vinegar Tasting, and Plating Techniques.
Viking Cooking School Hands-On Class
The Viking Cooking School hands-on cooking classes give you an opportunity to get your hands dirty in the kitchen. Working closely with an instructor and using the finest Viking professional appliances, cookware and cutlery, you and a small group of friends can learn cooking techniques by preparing the menu items, and then enjoying the fruits of your labor. Visit Viking Cooking School for additional information.
Class size is limited to 12 students (unless otherwise noted)*
Personal recipes packets are provided for students to take home.
Each class concludes with a review of the techniques with the Instructor, while enjoying a sampling of the dishes prepared in the class along with a beverage.
* Some locations offer a hands-on class limited to 6 for students interested in more personalized instruction. Check with your location for details.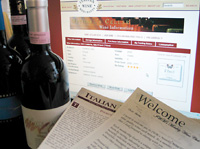 Italian Wine Merchants – Wine of the Month Club
Italian Wine Merchants (IWM), a retail shop that exclusively represents fine Italian wine, was founded in 1999 by Sergio Esposito, chef Mario Batali, and restaurateur Joe Bastianich. IWM only carries the top 1% of all Italian wine produced and houses the largest Italian vintage collection in the world.
Choose from four different Wines of the Month Clubs: Monthly Wine Clubs for the Aspiring Collector, Novice, Enthusiast, and Connoisseur. For more information, contact the Wine Club Manager: wineclub@italianwinemerchant.com or call 212-473-2323, x 132.
Food Network Magazine
Love the Food Network? Then your favorite foodie will love this new magazine! Find the best recipes, videos, healthy eating advice, party ideas and cooking techniques from top chefs, shows and experts. For more information or to subscribe, visit Food Network Magazine online.
igourmet.com Gift Basket
igourmet.com is America's leading online gourmet food and gift retailer. Offering over 600 specialty cheeses, thousands of fine foods, and a complete line of exquisite gift baskets, each accompanied by detailed information and useful serving suggestions, igourmet.com is the preferred place to shop for connoisseurs across America. Visit the igourmet gift shop to get your basket of goodies.
EXCLUSIVE for Viking Life members: Receive 15% off igourmet gift baskets. Simply enter VK16 during checkout when prompted for a discount code. The code will expire on 12/31/08.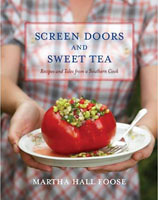 Screen Doors and Sweet Tea
For years we've awaited the first book by Delta chef Martha Foose, and the result, Screen Doors and Sweet Tea, is even better than we imagined. The recipes, stories and photographs perfectly capture this unique region, as only a tried-and-true native could do. Martha's creativity in the kitchen translates to the page, and any aficionado of American regional cuisine will savor this guide to a truly authentic corner of the country. Fellow Southern food lovers the Lee Brothers, Matt and Ted, say, "Her stories of growing up in Mississippi have the unmistakably Southern cadence of tales swapped across the dinner table. The book has given us a new appreciation for the genius of Delta cuisine, and even better, it has us yearning to cook, gather friends, and tell stories." Signed first editions available now for $32.50 at TurnRow Book Co. Order here from TurnRow Book Co.
A Chef's Library
Join TurnRow Book Co.'s culinary book club for readers and collectors of food books. Each month they'll select a top new cookbook or exceptional work of food writing and send you a signed first edition. There is no membership fee, only the cover price of the book (typically $25-$45) and a $6 shipping charge.
They offer two subscriptions:
A Chef's Premium Library, featuring 12 titles a year (both cookbooks and food writing) and a free bonus book at the end of the year.
The Cookbook Library, featuring their 6-8 cookbook picks for the year.
In addition to supplying your kitchen library with the best new culinary books every month, they'll wrap the book jackets in splatter-proof mylar covers. For more information on the club, email them at turnrow@turnrowbooks.com or call 888-453-5995.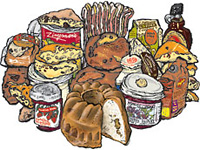 Zingerman's Christmas Morning Gift Box
Want to be the greatest house guest ever? Give someone the best Christmas or New Year's brunch they've ever had. A nosher-sized Zingerman's Sourcream Coffeecake, an assortment of nine Handmade Scones (three each Country, Classic Currant, and Ginger), American Spoon's Strawberry Preserves, Devon Cream, a pound of Zingerman's Creamery's award-winning Cream Cheese, Washington State Fireweed Honey, real Maple Syrup and Cultured Butter from Vermont, a pound of Nueske's Applewood Smoked Bacon, a loaf each of Cinnamon Raisin and 8-Grain 3-Seed Bread, a small Zingerman's Stollen, Zingerman's Stone-Ground Irish Oatmeal, a bag of freshly roasted Zingerman's Coffee, Earl Grey Tea and a pound of Natural Brown Sugar. This delicious gift box serves a dozen people easily, and everything freezes well. It's a regular Zingerman's tradition, sure to cement everyone's understanding that you are the world's greatest forethinker. Gift Boxed in a giant round wooden crate. Requires overnight shipping. To order visit www.zingermans.com.