Product Features and Specifications
1 ply construction
Exclusive Multi-Ply construction of stainless steel and aluminum alloys
Multi-Ply construction:

Includes 18/10 stainless steel for cooking surface and exterior on all vessels
Suitable for all other cooking surfaces; gas, electric, halogen, ceramic, induction. Includes a layer of "magnetic" stainless steel for induction cooking capability
7-ply material that extends throughout the vessel including the sides (stock pots utilize 5-ply Multi-Ply construction which is optimum for these deep-drawn units)

Ergonomic handles constructed of investment-cast stainless steel  and have stay-cool vent design 
All handles are stainless steel, double-riveted to each vessel
All cooking vessel and handle designs created by Viking Design and exclusive to Viking; Manufactured in Belgium
Dishwasher safe, but hand washing recommended for superior appearance
Lifetime warranty against manufacturing defects.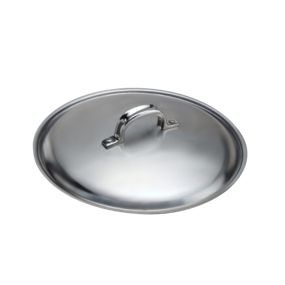 Note: For manufacturer's warranty to apply, Canadian customers should purchase Viking cookware, cutlery, and countertop appliances from an authorized Canadian dealer of Viking Culinary Products. Email: canadianculinary@vikingrange.com to find a dealer nearest you.
Model Numbers
VSC0901 - 6½" 7-ply Lid
VSC0902 - 7" 7-ply Lid
VSC0903 - 8" 7-ply Lid
VSC0904 - 9½" 7-ply Lid
VSC0905 - 11" 7-ply Lid
VSC0906 - 8.7" 7-ply Lid