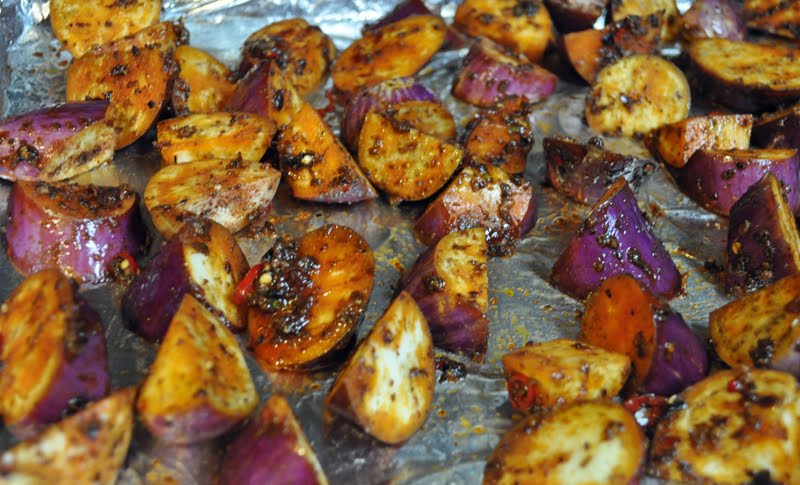 Roasted Hunan Eggplant


I love eggplant. I honestly love it. I loved it even more a few years back when hubby and I spent a week in San Francisco.

We were within walking distance of Chinatown, staying in the Union Square part of town, and we discovered a fantastic Hunan restaurant called Hunan Home's. The food was amazing. We started with some dumplings, which were delicious albeit pretty standard, and then Bond ordered Hunan Smoked Pork, which the menu described as smoked pork sauteed with cabbage, green pepper and leeks in "chef's hot sauce." I ordered the Eggplant with Spicy Garlic Sauce. The sauce included some ground pork.

Both dishes were amazing, with the perfect balance of flavors and just the right amount of heat. (On the Chinese culinary landscape, Hunan is the spiciest cuisine. This was news to me, as I had always thought Schezuan was the spiciest. Learn something new every day!)

You know a meal is really great when you are only in town for a week and dine there more than once. We're talking San Francisco here, which is one of the most amazing food towns I've ever visited, so this speaks volumes about our enjoyment of this inexpensive meal.

It took a few visits to my local Asian grocery to find the ingredients I'd need to recreate the dishes at home, but I have come close to the flavors. I omitted the meat in both, to make these into side dishes to some smoked duck or other meaty entree or to serve as the main dishes in a vegetarian/vegan Hunan meal.

I'm sharing my version of Hunan Eggplant today.

Roasted Hunan Eggplant


1 1/2 pounds eggplant, about 8 small eggplants, cut into large chunks
2 tablespoons Chili Black Bean Sauce*
2 teaspoons grated fresh ginger
2 teaspoons minced garlic, about 2 large cloves
1 small red or green chile (Serrano or jalapeno), very thinly sliced
1 teaspoon dark soy sauce**
1 tablespoon sesame oil
1/4 cup peanut oil
2 green onions, green parts only, very thinly sliced

Preheat oven to 400 degrees. Line a baking sheet with foil and spray with nonstick cooking spray and set aside.

Place the eggplant chunks in a mixing bowl. Combine the remaining ingredients in a small bowl and then toss with the eggplant. Roast for 45 minutes, stirring once after 25 minutes. Remove from the oven and toss with the green onion.



Makes 4 main dish or 6 side dish servings.





*Chili Black Bean Sauce is available in the Asian section of many supermarkets.





**Dark soy sauce can be purchased in Asian grocery stores. Use regular soy sauce if you don't have access to an Asian grocery store.