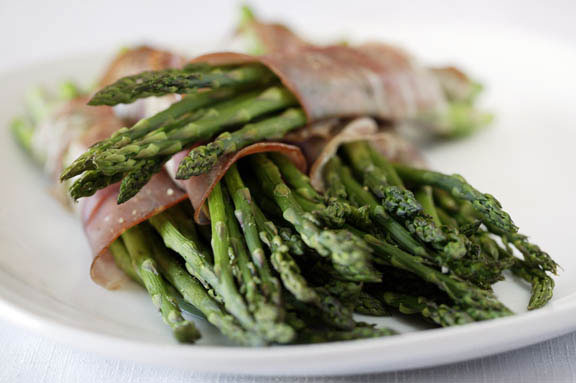 Prosciutto-Wrapped Asparagus

Sometimes the simple things are the best, especially when it comes to dinner party menus. If you're serving a special entrée, your side dishes shouldn't occupy too much of your pre-meal time or take too much attention away from the main course.

These bundles of asparagus wrapped in parmesan-coated prosciutto are a perfect example of the "less is more" side dish. They can be made ahead, meaning less last minute work for the host or hostess, they roast up unattended and they pair perfectly with all sorts of entrees.

For added flavor, I'll sometimes sprinkle the bundles with fresh breadcrumbs mixed with lemon zest, fresh thyme and a bit more Parmesan cheese. But no adornment is really necessary, since these bundles are delicious just the way they are.


2 bunch asparagus spears, approximately 20 spears
1/2 cup shredded Parmesan cheese
8 thin slices prosciutto (about 1/8 pound)
Preheat oven to 400 degrees F. Blanch asparagus in boiling water for 1 to 2 minutes. Drain asparagus well and pat dry with paper towels. Place shredded cheese on a plate and dredge one side of one slice of prosciutto in the cheese.

Place 1/4 of the asparagus (approximately 5 spears) at one end of the slice of prosciutto and roll up. Continue with remaining asparagus, cheese and prosciutto. Place wrapped spears in a roasting pan and roast 10 minutes, or until prosciutto begins to brown.



Makes 6 to 8 servings.